The Geneva Motor Show (1 March 2005) is the venue for SEAT to reveal the Prototype of one of its most important cars to come, the new Leon. The Leon Prototype gives a clear indication of the look and image of the future Leon, which will build on the sporty character and reputation of the current car. The Prototype also clearly exhibits some of the features of the SEAT Salsa, the concept car that was presented to great acclaim at this same show in 2000, and heralded the vision of the style and image for all new SEAT cars to come.
The sportiest car from "new SEAT"
The new Leon will be the third model in the new generation of SEAT products following on from the Altea and Toledo, both also created in the Salsa mould. The Leon Prototype has the distinctive lines of a modern coupe, but combines this sporty character with the space and comfort normally expected from a bigger saloon car in this class. Its 4,343 mm length, ample track and wheelbase make it ideal for comfortable driving in urban environments and also give it exceptional dynamic driving qualities for swift and safe travel on the open road.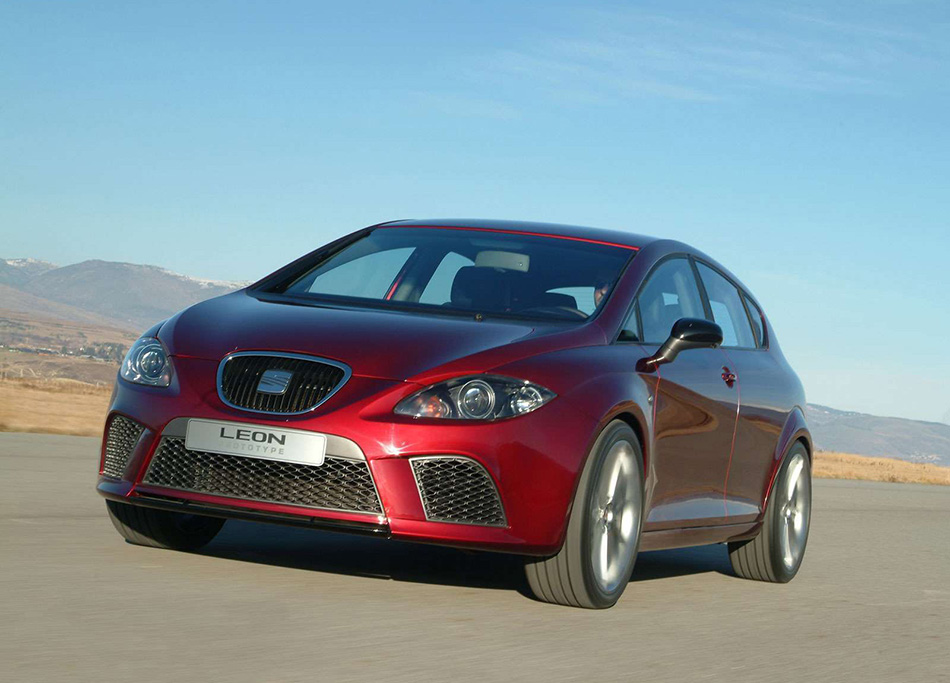 Although the Leon Prototype has a four-door body it conveys the image of a beautiful coupe thanks to the profile of the rear windows and the hidden handles on the rear doors. The wide rear hatch also ensures it provides maximum versatility.
The SEAT design team has worked meticulously on the interior of the Leon Prototype using leading edge technology and high-quality materials. The result is a spacious cabin configured as a 2+2 with an emotional and sporty ambience achieved by allowing the exterior design to reflect on the interior.
The Leon Prototype is powered by a turbo-charged 200PS FSI direct injection petrol engine with maximum power available between 5,100 and 6,000 rpm. All this power is transmitted to the front wheels through an automatic DSG six-speed gearshift and then to the road by an impressive set of 19 inch alloy wheels shod with 265/30 tyres. The performance is excellent: the Leon Prototype reaches a top speed of 236 km/h (145 mph) and accelerates from 0 to 100 km/h (0-62 mph) in 6.9 seconds.
The Leon Prototype also includes other exclusive features such as new optical technology in the form of bi-function xenon headlights, four video cameras, two monitors and a DVD player. The four cameras transmit images from different viewpoints around the car, three outside and one inside. These images can be watched inside the car on two separate monitors, which can also play DVDs through the player located under the passenger seat.
Source: Seat
Gallery:
Seat Leon Prototype (2005)