2004 has been the best year ever for Toyota Avensis, selling just over 145,000 units in the European market, which represents an increase of 25% over the previous year. Avensis is also number one in the segment for petrol sales. Toyota Avensis has now climbed to fifth place in the European D segment in terms of new car registrations, a dramatic improvement since the model was introduced to the market. The addition of two brand new 2.2 D-4D diesel engines (with 150 DIN hp and 177 DIN hp) represents a significant step forward. These are the first two members of the Clean Power diesel engine family, offering extra performance and lower emissions in one package.
With the arrival of the new 2.2 D-4D engines, Avensis will offer customers one of the most comprehensive diesel engine ranges in the segment. The existing 116 hp 2.0 D-4D is the entry-level engine, followed by a 150 hp 2.2 D-4D as the mid-power offer and, finally, the 177 hp 2.2 D-4D, which will cover the high-power band of this segment. Thanks to these two new engines, Toyota Avensis will now satisfy up to 95% of the customer needs in the diesel D segment. With the addition of these new engines, Toyota Avensis receives other important upgrades, including a new exterior colour (Storm Grey) and a new gearlever design (specific to the new 2.2 D-4D units).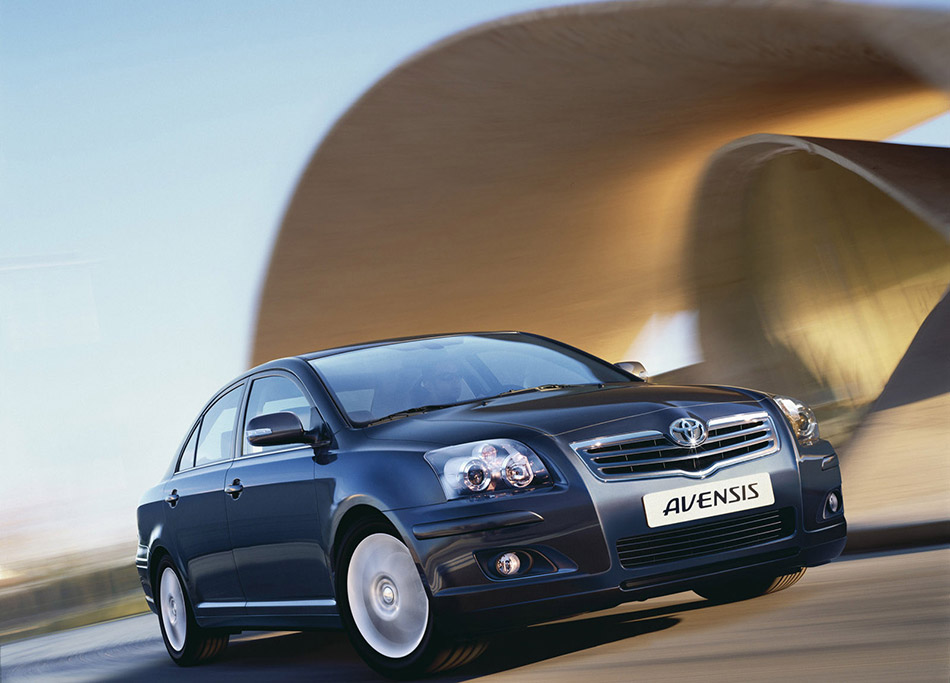 In 2001, Toyota took the aluminium engine block of the 1.5-litre petrol engine installed in the Yaris as a base for its 1.4-litre D-4D diesel. For the new 2.2 D-4D engines, Toyota has adopted the aluminium block of the AZ petrol engine family, to which the 2.0-litre and 2.4-litre units (both also available in the Avensis) belong. As a result, the two versions of the 2.2 D-4D engine – 150 DIN hp and 177 DIN hp – are lighter than other competitor engines that have adopted a traditional cast-iron block. One of the secrets to the great efficiency and low NVH of the new 2.2 D-4D engines is their low compression ratio. At 15.8:1, the 177 DIN hp 2.2 D-4D engine boasts the world's lowest compression ratio among production diesel engines. The 150 DIN hp version utilises 16.8:1, also a significantly low figure.
Toyota has equipped the new 177 hp 2.2-litre D-4D engine with a new generation of ceramic glow plugs, able to reach much higher temperatures – 100 °C more than the previous generation of ceramic plugs. This allows a reduction of emissions and quicker start on cold conditions.
The new 177 hp 2.2 D-4D engine uses piezoelectric technology for the first time in this engine size. Piezoelectric injectors can inject larger volumes of fuel and are twice as fast as solenoid injectors, since the nozzle needle can lift and close quicker. Toyota's piezoelectric common-rail system produces the highest injection pressure among systems of this type – 1800 bar. This state-of-the-art common-rail system is a central factor in achieving class-leading levels of power and torque, with high fuel efficiency. In addition, it puts Avensis at the top of D segment in terms of low NVH.
This same engine also adopts an electrically-activated Variable Nozzle Turbocharger (VNT). Electrical activation allows the engine's ECU to perform a more precise and progressive activation of the vanes, which helps increase the efficiency of the turbocharger. Compared with the 2.0-litre D-4D, the turbine wheel inertia has been lowered by 30% by reducing the number of blades and their thickness. This contributes to a much quicker response at low speeds.
Toyota D-CAT (Diesel Clean Advanced Technology) is an integrated suite of technologies that combine to reduce harmful emissions to the lowest levels of any modern diesel engine, comfortably passing the forthcoming EURO IV standards thanks to its greatly reduced emissions of hydrocarbons (HC), Carbon Monoxide (CO), Nitrogen Oxides (NOX) and Particulate Matter (PM). When installed in the new 177 hp 2.2 D-4D, Toyota D-CAT results in drastically reduced emissions of both NOX and PM. Toyota D-CAT alone resulted in no fewer than 1,622 new patents being registered by Toyota.
Both 2.2 D-4D engines come coupled with a brand new 6-speed manual transmission that boasts a smooth, quick and precise gear-change. This has been made possible by the use of multi-cone synchronisers from first to fourth gears. It uses a slide ball bearing in the select lever shaft and fork shaft (for high shift efficiency), as well as a shift-guide plate to decrease the amount of free play after shift. The re-shaped mass damper also improves shift smoothness. The new gearbox's construction is not only robust, but also exceptionally compact, at a mere 384 mm in length.
This transmission adopts the lowest viscosity oil available today for manual transmissions which, alone, can bring a fuel consumption reduction of up to 1%. The adoption of a clutch self-adjustment system allows a reduction on the clutch cover load. This reduces face wear and means less initial effort to depress the clutch pedal. Furthermore,
the feeling under partial clutch engagement is also greatly improved.
Source: Toyota
Gallery:
Toyota Avensis (2005)