Get ready to go where even roads fear to tread with the adrenaline-pumping TRD Pro Series from Toyota. Already favorites among serious off-roaders, the 2015 Toyota Tundra, Tacoma and 4Runner will get even more capable with these new, aggressive off-road packages designed by the experts at Toyota Racing Development (TRD).
Rising from the Desert
The TRD Pro Series arises from Toyota's storied off-road racing heritage, with numerous victories in the grueling Baja 500 and 1000 endurance races. Born from this experience in the desert, Toyota's terrain-conquering vehicles will help serious off-roaders go places they never dreamed possible.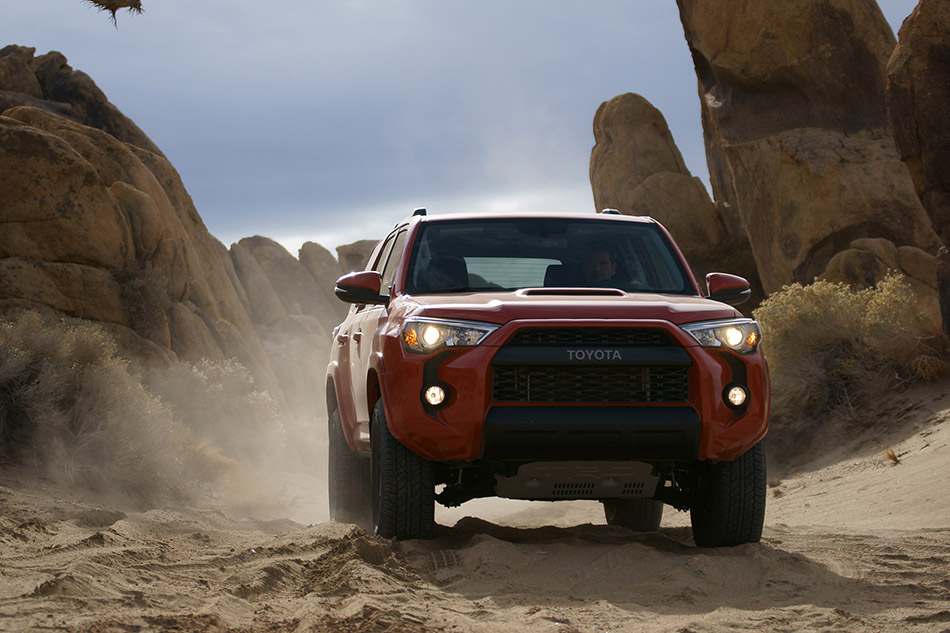 Serious Specs for Serious Off-Roaders
The new factory-installed TRD Pro Series is aimed squarely at extreme off-roading enthusiasts who push their trucks and SUVs to the limit.
Available on 4X4 models of Tundra, Tacoma and 4Runner, all TRD Pro Series vehicles will be equipped with:
TRD Bilstein shocks with remote reservoirs
TRD-tuned front springs
TRD front skid plate
Unique front grille with "TOYOTA" badging (pays tribute to early iconic Toyota models)
TRD floor mats
TRD shift knobs
Black wheels
A hot new color, Inferno, is joined by Black and Super White, cool classics for off-road rigs.
Tundra Like No Other
In addition to the shared features, the Tundra TRD Pro will be equipped exclusively with:
TRD-tuned springs with 2" lift for the front of the vehicle
Decreased spring rate to improve ride quality over harsh terrain
All-black 18-inch alloy wheels with Michelin ORP tires
TRD dual exhaust system
TRD PRO quarter panel bed stamping
Unique interior seat color with red stitching
Unique instrument panel ornament insert
Taco Supreme
Building on the best-selling compact pickup in the industry, Tacoma TRD Pro beefs up and adds a little hot sauce with:
TRD-tuned springs with 2" lift for the front
Decreased spring rate
16-inch black beadlock-style wheels
BFGoodrich® All-Terrain LT265/75R16 tires
+ TRD Exhaust
Black TRD PRO badge
Rock Star 4Runner
Adding to its rock-crawling prowess, 4Runner TRD PRO will be exclusively equipped with:
1.5" lift for the front of the vehicle
1" of additional wheel travel
All-new 17-inch TRD all-black alloy wheels
Black TRD Pro badges
Black front and rear lower bumper accents
Street Cred On and Off-Road
The TRD Pro Series is the most-advanced yet in a long line of TRD packages for Toyota trucks that dates back to 1998 when the first Off-Road package was introduced for Tacoma.
TRD has been an in-house engine and chassis developer for successful Toyota racing activities around the world for nearly four decades. It also develops motorsport-derived accessories for Toyota, Lexus and Scion street cars and trucks. TRD's U.S. operations were first established in 1979 and are headquartered in Costa Mesa, Calif., with an additional facility in Salisbury, N.C.
The TRD Pro Series will start getting down and dirty in the fall of 2014.
Source: Toyota
Gallery:
Toyota 4Runner TRD Pro Series (2015)