Volkswagen has announced a classic convertible model to sell at a list price of 25,740 Euro - with every prospect of becoming a sought-after collector's items in the years to come.
Golf Cabriolet "Last Edition" convertible to be offered in four body colours, two colours for the fine-quality leather upholstery and with an electrically operated soft top
One of the most successful open cars on the German market is now entering its final season: the Golf Cabriolet. To commemorate this car's success, Volkswagen has announced a "Last Edition", to sell at a list price of 25,740 Euro; as a strictly limited edition, it is sure to be in great demand from collectors. Its standard equipment is extremely comprehensive, including leather-upholstered sports seats and air conditioning. With an 85 kW (115 bhp) engine, the "Last Edition" will be available only with its soft top electro-hydraulically powered. Four paint finishes are offered: "Reflex silver metallic", "Marine blue pearl effect", "Bright green pearl effect" and "Black magic pearl effect". The nappa leather upholstery and trim is also available in two colours: "Black" and "Light beige".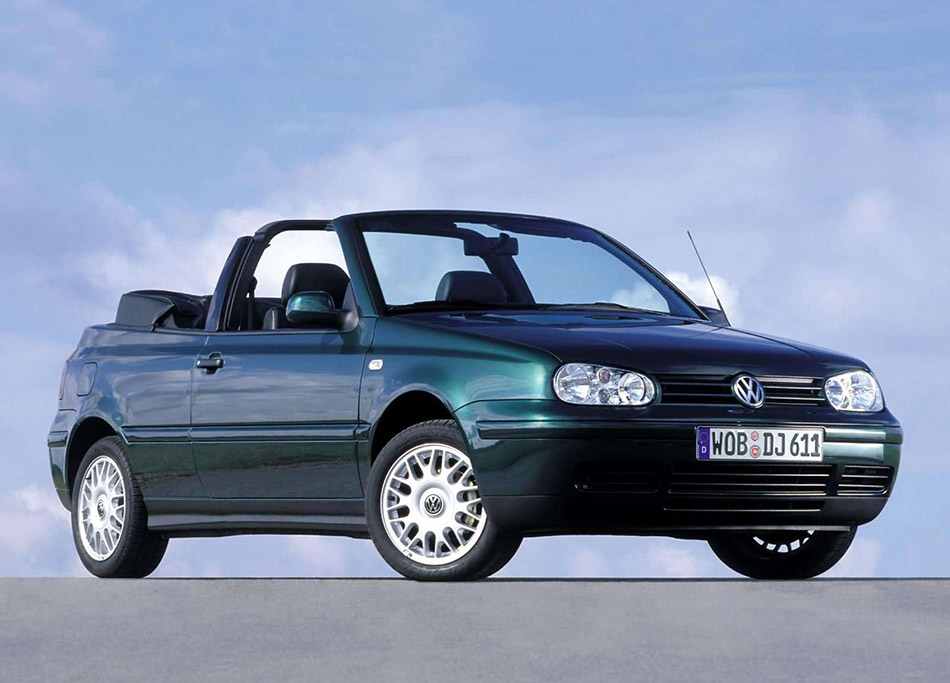 Full standard equipment specification for the Golf Cabriolet "Last Edition"
The "Last Edition" has a most impressive standard equipment list. This special model can be identified externally by its 15-inch alloy wheels from BBS with their size 195 tyres, the dark-glass rear lights, the bumpers, side rubbing strakes and mirror housings painted in body colour (the outside mirrors have electric remote control and heating) and the green-tinted, heat-insulating windows. The cloth soft top has six layers of material and is opened and closed electro-hydraulically; the cover that conceals it when open matches the colour of the interior trim.
The interior decor is as dynamic as it is distinguished: the front sports seats, which are height-adjustable, provide a high standard of comfort and are particularly easy to keep clean. Leather is also used to trim the three-spoke sports steering wheel, the gear lever knob and gaiter and the handbrake handle. The insider door handles and the handbrake lever knob are in polished chrome. The high-quality velour carpet is protected by additional fabric floor mats, which are standard equipment.
If the Golf "Last Edition" Cabriolet is driven with the soft top closed, air conditioning ensures a pleasant interior climate. The front and rear side windows are electrically operated, cruise control makes even long journeys more relaxed, the multifunction display (MFA) supplies information such as average fuel consumption and average speed, the "gamma" radio with its detachable control panel delivers good sound quality even in the open air and heated front seats complement the highly effective heater so that open-topped driving remains a pleasure even on cooler spring or autumn days. A windbreaker net extending across behind the seats at the same height as the roll-over protection hoop helps to reduce unwanted draughts to a minimum.
Other features include illuminated make-up mirrors, central locking with radio-operated remote control, folding rear seat backs and heated windscreen washer jets. They indicate the extent to which this "Last Edition" has been equipped for maximum comfort and day-to-day driving convenience. Front and side airbags, a heated rear window, an anti-lock braking system (ABS) and disc brakes at all wheels (with ventilated front discs) and an anti-theft alarm system contribute to convertible driving pleasure with optimum safety.
The Golf Cabriolet first appeared in this body style in the summer of 1993. Five years later, in 1998, Volkswagen modified it to bring it into line with the current Golf IV model generation. Since it first appeared, more than 280,000 open-car enthusiasts have chosen this best-seller, making it one of the world's most successful convertibles after the Beetle Cabriolet. Like this model from the same company, the Golf Cabriolet is likely to acquire the status of a classic car that retains its value over the years. This will apply in particular to this limited-volume "Last Edition"
Source: Volkswagen
Gallery:
Volkswagen Golf Cabriolet Last Edition (2002)