Buick today announced the 2013 Verano Turbo luxury sedan will be powered by an Ecotec 2.0L turbocharged engine with direct injection and continuously variable valve timing that produces an SAE-certified 250 horsepower (187 kW) at 5300 rpm and 260 lb.-ft. (353 Nm) of torque at 2000 rpm. Acceleration from 0-60 mph is an estimated 6.2 seconds.
The Verano Turbo goes on sale later this year.
More than 90 percent of the Verano Turbo's peak torque – more than 234 lb.-ft. – is available between 1700 to 5500 rpm. Its closest competitor, the 2013 Acura ILX 2.4L, offers a peak of 170 lb.-ft. of torque.
"The 2.0L turbo engine was designed for refinement, higher output capabilities and reduced noise," said Amy Joss, Ecotec 2.0L assistant chief engineer. "The way it sounds, the power delivery and the refined character are all fitting of a luxury sedan with a fun side."
In December, Buick's 2.0L turbocharged Ecotec engine was named one of WardsAuto World's 2012 10Best Engines for North America. At the time, the publication's editor-in-chief, Drew Winter, said: "This engine delivers a level of power and sophistication that redefines Buick."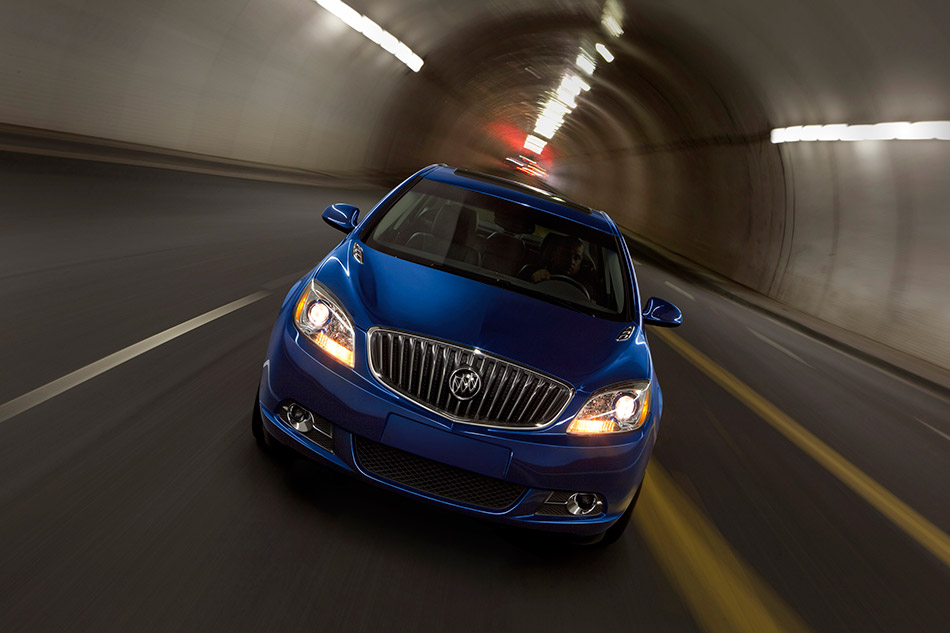 The choice to use a small-displacement turbocharged engine for a more powerful Verano model is consistent with Buick's effort to downsize its powertrains without sacrificing performance. Verano and the Regal luxury sport sedan are available exclusively with four-cylinder engines, while the LaCrosse luxury sedan comes standard with a four-cylinder engine paired with eAssist technology, which uses an electric motor and battery to boost both performance and fuel economy. The standard 2013 Regal four-cylinder engine also is equipped with eAssist.
"Buick's engine strategy continues to be driven by intelligent performance," said Tony DiSalle, vice president of Buick Marketing. "Four-cylinder engines, turbocharging and eAssist are all the right solutions for today's market. With these advanced technologies, Buicks are more efficient without sacrificing their smooth, quiet character."
According to IHS Automotive, use of four-cylinder engines in North American vehicles will grow 74 percent from 6.9 million to 12.2 million units over the next 10 years.
The Verano Turbo will be available with a choice of a six-speed automatic transmission or a six-speed manual gearbox. Including Regal Turbo and Regal GS, the Buick brand offers more manual transmissions than Ferrari and Lamborghini combined.
Acceleration performance is expected to be consistent between the two transmissions.
Fuel economy numbers are not final, but the Verano Turbo is expected to be in line with Buick's other turbocharged models. Pricing will be announced closer to the start of production in late 2012.
Source: Buick
Gallery:
Buick Verano Turbo (2013)