No super sports convertible offers so much value for your money : The new Chevrolet Camaro ZL1 Convertible is priced at 88,900 euros Geiger Cars Munich and pampers its occupants with the brute power of 589 hp ( 433 kW). No other convertible, which may include , thanks to his performance on the super sports car is to have even close to this price. Besides sheer power of the 6.2 - liter supercharged shines in most Chevy convertible ever with the madness torque of 754 Nm and curdling V8 sound . The characteristic sound of the engine passes through a valve- controlled sport exhaust system to the outside and ensures even at high outside temperatures of nightmares. For U.S. Cars specialist Karl Geiger, the Camaro ZL1 convertible is now available .
The open version of the supercharged Camaro ZL1 is solid and powerful on fine 20 inch alloy wheels with wide tires, front 285er and 305er rear. A completely discreet spoiler provide perfect road grip so the convertible racer brings its unbridled sovereign power to the asphalt . The chassis of the strongest Chevy convertible ever benefited from the magnetic dampers from the Corvette ZR1, which adapts to 1000 times per second changing road surfaces. Also improve the performance of a differential lock, numerous body reinforcements compared to the coupe as well as a strut brace under the powerfully styled bonnet with air scoop and concise ZL1 logo.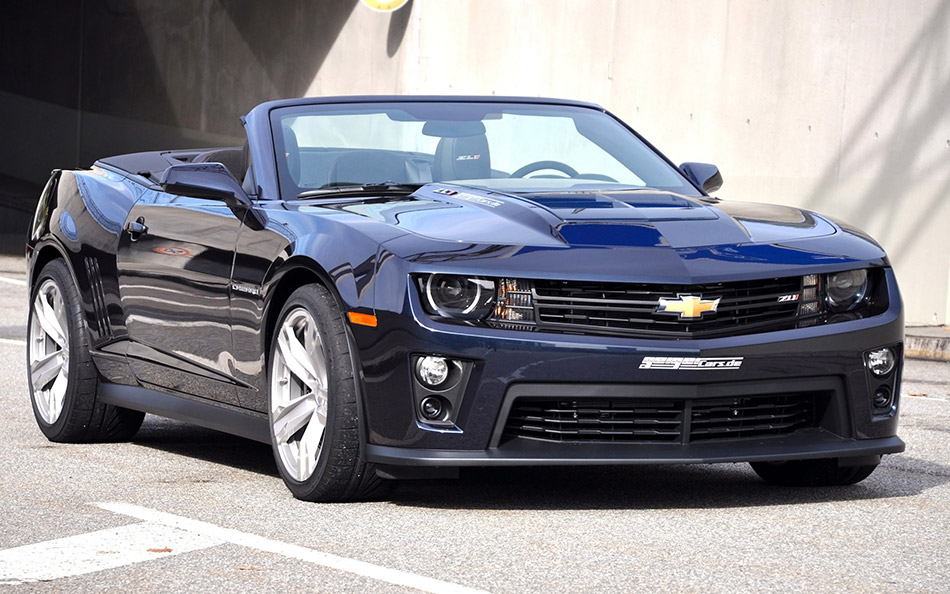 The luxurious facilities of the super-sporty Camaro ZL1 Convertible include leather upholstery in Ebony, Black, heated memory seats, high-performance sound system , gear shift knob of the 6- speed automatic transmission and steering wheel in Alcantara , wind deflector , rear view camera , ABS , ESP , traction control and automatic soft top . With numerous electronic driving aids , the high-performance convertible is absolutely safe to drive, at the same time its technical base ZL1 Coupe on the legendary Nürburgring Nordschleife min with an impressive lap time of 7:41. Thus, imported by Geiger Cars Chevrolet the Camaro ZL1 Convertible imported by Geiger Cars embodies both performance and luxury for fresh air lovers among fans of powerful U.S. cars.
Source: GeigerCars
Gallery:
GeigerCars Chevrolet Camaro ZL1 Cabrio (2013)