The experienced crew of Geiger Cars did the fine tuning for the Raptor on their brand new high-performance four-wheel test bed, the Autodyn 880 AWD Superflow for up to 1,600 hp and 322 km/h. By suspension lift the chassis of the garish green Geiger Cars -Raptor grew from 1.98 to 2.20 m height for even more superior features in the terrain. The advanced damping system of the Raptor Fox has maintained Geiger Cars, because it is optimized for all driving situations on and off-road and high loads put away loose .
The four-seat F-150 SVT Raptor SuperCrew Cab as the base has a differential lock and the extensive Luxury package. The normally closed cargo area is extendable about the transport of motorcycles, a leader in the tailgate is designed to easily climb the stern platform .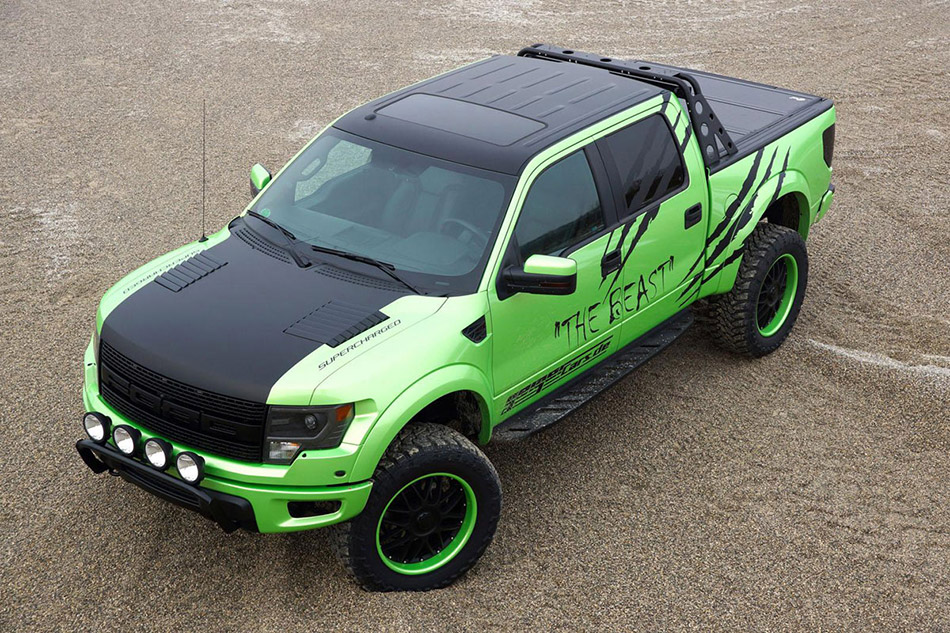 For plenty of grip on every surface makes with "The Beast", the high-quality all-terrain tires Toyo Open Country 37x13.5R22 on the dimension 10x22er aluminum rims. Due to huge wheel arches retrofitting with matrix chains is possible at any time - so the griftgrüne muscle man stirs up even the most steep ice slope . The base price for the Ford F-150 SVT Raptor SuperCrew Cab is 63,900 euros. Including all tuning measures and the visual and technical refinement by GeigerCars costs "The Beast" 99,500 euros.
Specifications Geiger Cars " The Beast" Ford F-150 SVT Raptor SuperCrew Cab:
Engine: 6.2-liter V8 Drehmoment : 712 Nm
Leistung : 572 hp ( 421 kW)
Transmission: Six -speed automatic
tires: Toyo Open Country ( 37x13.5R22 ) Aluminum Rims: 10x22 inches
Price: 99.500€
Source: Geiger Cars
Gallery:
GeigerCars Ford F-150 SVT Raptor Super Crew Cab Beast (2014)