Holden has added cutting-edge technology and features to its famous Ute and reduced recommended retail prices (RRP) by up to $5,500 across the range.
The range-opening, 3.6L SIDI V6 automatic Holden Ute has a new RRP of just $32,990, down $2,500, and comes standard with the premium features Holden has introduced across the VF range including Auto Park Assist, front and rear parking sensors, remote vehicle start (automatic models only) and a rear view camera.
VF Ute also comes standard with the class-leading Holden MyLink infotainment system. With an eight-inch, high-resolution colour touch screen, MyLink features enhanced voice recognition, full iPod® integration including Siri Eyes Free integration and embedded app technology including Pandora® and Stitcher SmartRadio™.
Holden has rolled out its new VF vehicle technology, including electric park brake with automatic release, Hill Start Assist, Trailer Sway Control and remote vehicle start (automatic transmission only), across every model in the Ute range.
Holden Executive Director Sales and Marketing, Philip Brook, said VF's stunning design and technology made the Holden Ute anything but utilitarian.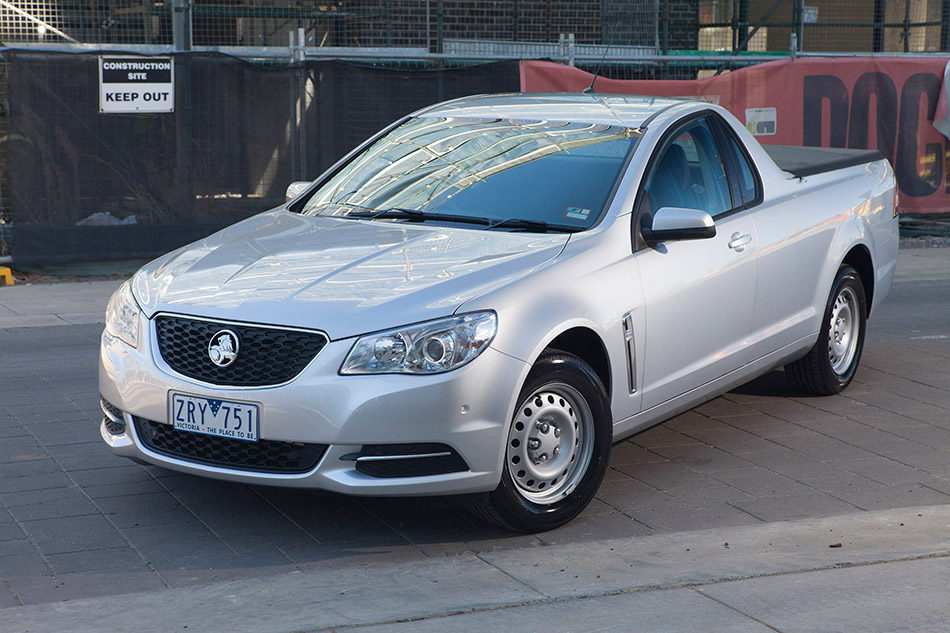 "VF offers the sort of world-class user technology that will redefine what it means to drive a 'tool of trade' vehicle. The Ute is so much more than its humble beginnings - it's become an incredible vehicle by any definition," he said.
"For performance lovers the Ute has become Holden's ultimate two-door sports machine with half of our Ute customers choosing a V8 model. VF Ute offers more of what people want - great performance, luxury features and the latest safety technology - and red hot prices across the range."
The first sports model in the Ute range is the SV6 manual with an RRP of $32,990. Standard with a manual transmission, SV6 is also powered by the 3.6L SIDI V6 with significantly more features and a price rollback of $5,500.
SV6 gains the following features over the highly specified range opening Holden Ute:
Blind Spot Alert,
Reverse Traffic Alert,
FE2 sports suspension,
18 inch alloy wheels and chrome exhaust tip,
limited slip differential (manual only),
exterior sports styling and sports seats,
projector headlamps, LED daylight running lights and
soft tonneau cover.
With the same features and technology, the famous SS Ute adds the powerful 6.0L Gen IV V8 engine and comes standard with a 6-speed manual transmission. The new RRP for the manual SS Ute is $38,990, down $3,500 on the previous model.
Mr Brook said Holden had created a logical walk up for the Ute sport range, from SS to the coveted SS V-Series, which mirrored the sedan and Sportwagon line-up.
"We've reduced the new RRP for SS V-Series by $5,000 to $42,490. Which means for just $3,500, customers can add new 19 inch alloys, leather appointed seats, satellite navigation, colour multi-function driver information display and passive entry sensor key technology with push button start," he said.
At the top of the performance table sits SS V Redline. Holden has added a significant number of advanced new technological features, yet still reduced the RRP for the manual SS V Redline Ute by $1,500 to $48,490.
In addition to the SS V-Series features, Redline adds Forward Collision Alert, Lane Departure Warning and Head-up Display driver safety technology. Redline also adds the updated sports-tuned FE3 suspension package, Brembo® brakes, forged 19 inch alloys as well as wider rear wheels for extra traction and competition mode with launch control and track settings.
"We're so proud of the Holden engineering work across the VF range, but particularly on our Redline models. Commodore's ground breaking technology and our upgraded Redline suspension will absolutely make the new SS V Redline Ute our ultimate Australian sports machine," Mr Brook said.
Source: Holden
Gallery:
Holden VF Commodore Ute (2014)