Infiniti, maker of luxury vehicles, adds a fourth model to its lineup of luxury performance vehicles with the July introduction of the 1999 Infiniti G20, an all-new fun-to-drive luxury sports sedan. The G20 joins the flagship Q45 luxury performance sedan, I30 luxury sedan and QX4 luxury sport utility vehicle.
The newest Infiniti is based on the highly successful European version, called the Primera. The first generation G20 was sold in North America from the 1991 through the 1996 model years.
"The new G20 is an authentic driver's car, offering spirited performance, a driver-oriented interior and sophisticated styling," said Tom Orbe, vice president and general manager, Infiniti Division. "At the same time, the G20 features all the luxury amenities you'd expect from a top-tier luxury brand like Infiniti, along with Infiniti's industry-leading philosophy of customer support known as The Total Ownership Experience®."
Designed with a European flair to compete against the best sports sedans in the world, the G20 combines superb dynamic handling capabilities with exceptional passenger and cargo room. Its cabin forward styling provides manageable exterior dimensions with generous interior spaciousness.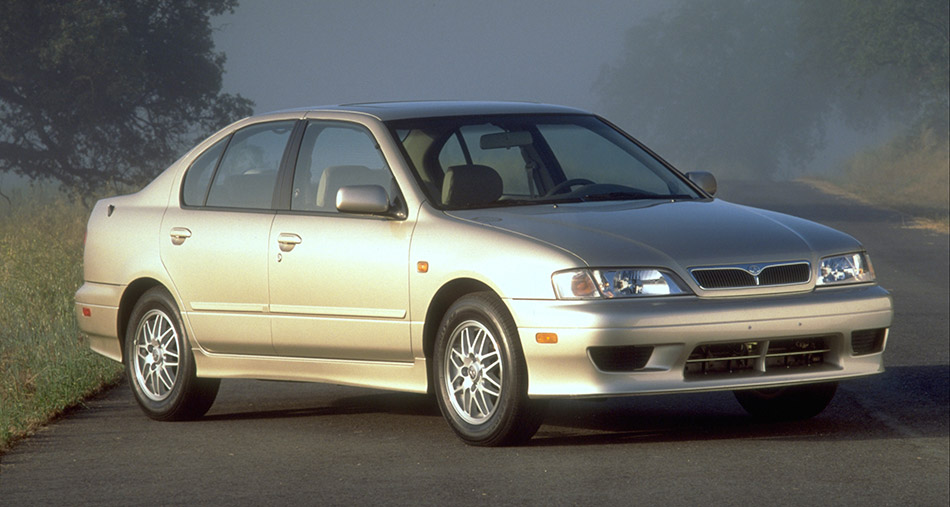 The G20's superior handling is a result of its precise steering, optimal engine placement over the front drive wheels, a unique front multi-link suspension system, an absence of torque steer and exquisite suspension tuning. The previous strut/parallel link rear design has been replaced with the patented Rear Multi-Link Beam™ design, which provides excellent grip and stability by helping the rear tires remain upright during cornering.
In addition, the G20 has an extremely rigid unibody, which is a result of Infiniti's advanced Intelligent Body Assembly System (IBAS) construction process.
The new G20 is powered by an advanced, high revving 140-horsepower 16-valve dual overhead cam four-cylinder engine with a new cross-engine mount system, which reduces idle vibration and acceleration noise. Torque is rated at 132 ft-lbs.
A choice of standard 5-speed manual or optional 4-speed automatic overdrive transmissions are available. The G20 rides on 15-inch alloy wheels and radial tires. A 4-wheel disc braking system with Anti-lock Braking System (ABS) is standard.
A G20 touring model, designated the G20t, adds an even higher level of sportiness, with its lower profile tires and viscous limited-slip differential. The G20t also features standard fog lights and a rear decklid spoiler.
The G20's exterior features a short hood, long cabin and high volume trunk. Its overall wedge silhouette conveys a sense of movement, while its aggressively slanted nose helps contribute to the G20's coefficient of drag of 0.30. The shape of the grille and angle of cut lines are similar to those of the Infiniti Q45 and I30, while new jewel-like halogen headlights add a luxury appearance and improved lighting performance.
Inside, the G20 cabin offers over 91 cubic feet of volume, a performance style instrument panel and comfortable "low-fatigue" style front bucket seats, similar to those used on the Infiniti QX4.
Convenience features include door pockets large enough to hold standard-size map guidebooks, a console storage box, damped-hinge glove box and four cupholders. The comfortable rear seat is a 60/40 split-folding design for added cargo carrying versatility.
An advanced 100-watt Bose® audio system includes a premium AM/FM/cassette and in-dash CD with six speakers. Other comfort and luxury items include available leather seating surfaces, automatic temperature control and a HomeLink® Universal Transceiver for remote opening of gates and garage doors.
Advanced G20 safety systems include an impact dispersing side body structure, with pipe-style steel side door guard beams, upper door reinforcements and reinforced body sides. The G20's new supplemental side-impact air bag design offers protection for both the head and chest areas. Every G20 also offers three-point seat belts (including rear center), front seat belts with pretensioners and load limiters, and dual front supplemental air bags.
Quality measures start with the use of IBAS construction, which provides fit accuracy of +/- 1.0 millimeter for the floor, body side and body main panels. Every G20 also undergoes an exclusive Infiniti test drive evaluation at the end of the assembly process.
The 1999 Infiniti G20 comes fully-equipped in a choice of standard or touring models. The only major options are the automatic transmission, a Leather & Convenience package, a Heated Seats and Mirrors Package (only available along with Leather & Convenience Package) and power sunroof (touring models without Leather & Convenience Package).
The touring model includes viscous limited-slip differential, fog lights, performance tires, automatic temperature control, HVAC filtration system, sport cloth interior and leather wrapped steering wheel. The Leather & Convenience package includes leather seating surfaces, power sliding glass sunroof, automatic temperature control, HVAC filtration system, power driver's seat, leather-wrapped steering wheel and HomeLink Universal Transceiver.
For those wanting the "ultimate" G20, a touring model with Leather & Convenience package is available.
"Since its introduction in 1989, Infiniti has experienced eight straight years of steady growth and accomplishments – taking its place among the industry leaders in both customer satisfaction and vehicle quality," said Orbe. "The addition of the new 1999 G20 adds a dimension of European sports sedan flavor and excitement that will help continue our record growth and success."
Source: Infiniti