Premium tuner LARTE Design lives and breathes the art of self-expression like no other company in its field. Offering three different styling kits for the striking Infiniti QX70, the customer can choose his or her favourite look without having to compromise. The LR3 kit is the latest invention of the LARTE Design studio and transforms a "noble car" into the proud vehicle of a "street knight". Carrying the iconic LARTE shield in the custom-made matt black radiator grille, the driver doesn't have to fear any styling competition. However, the LR3 kit offers so much more!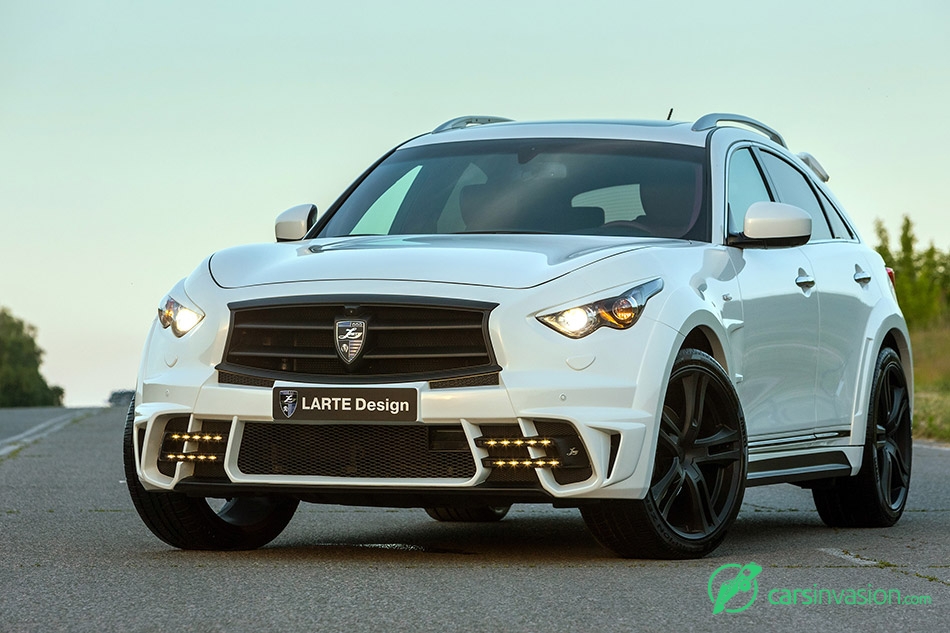 LARTE front and rear bumpers, made of high quality composite materials, are the perfect "shiny armour" for a daily driver. Sharp and bold edges, protrusions, vents and a trapezoid wire mesh characterize the aggressive "face" of our car. Specially designed headlight plates are an apt ornament for this fierce warrior. Additional LED-powered daytime running lights from the German company Nolden are commanding respect from other drivers and seem to say: Don't even think about "jousting" with this great, muscular vehicle! Moreover, side sills and fender flares with aggressively shaped vents make the body 5 cm wider and underline size and power of the car.
And this "carriage" doesn't even have a weak spot at the back: The LARTE rear apron is featuring belligerent vents and a mighty diffuser. The latter is the home of four giant 101-millimetre exhaust pipes from the renowned Austrian-based manufacturer Remus. Furthermore, these big barrels are featuring a first class sound and laser-engraved LARTE logos. Towering above this beautiful scene, a dainty roof spoiler is completing the bodywork and optimising the airflow. Oh, what a knight!
Source: Larte Design
Gallery:
LARTE Design Infiniti QX70 LR3 (2015)