Kia is investing heavily in extensive R&D studies for its alternative fuel and powertrain research programme, and to develop its 'EcoDynamics' sub-brand with innovative fuel-stretching and emissions-cutting technologies for the most efficient Kia vehicles. Now Kia has taken another step forwards with the introduction of the new Kia Ray concept car. This ultra-sleek, plug-in hybrid sedan can run for more than 80 km solely on electric power and achieve a range of more than 1,150 kilometres on a single tank of fuel.
After making its world premiere at the recent Chicago Auto Show on 11 February, the 4.4-metre long, four-door Kia Ray concept sedan now makes its European debut at the Geneva Motor Show today, 2 March 2010.
Styled in California by the team at Kia Design Centre America, the Kia Ray concept is a bold new collaboration between Kia's design and engineering departments and inventively showcases a futuristic prospective plug-in hybrid vehicle configuration from Kia.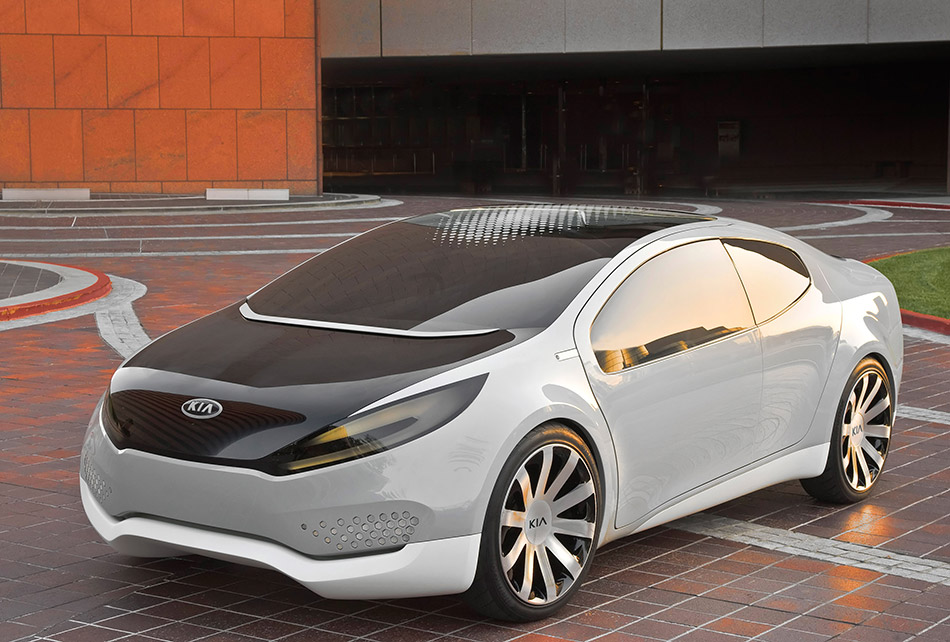 "It is important to imagine what drivers will want in the future from a green perspective early in the design process, because people want to reduce their carbon footprint without driving carbon copies," said Peter Schreyer, Chief Design Officer, Kia Motors Corporation. "Being green doesn't have to be an obvious statement anymore and the Kia Ray exemplifies a viable blend of modern, eco-minded features for today's environmentally conscious consumers."
The stylish and futuristic body, which combines sophisticated and sleek lines with functionality and improved fuel economy, features innovative curved hexagonal roof-top solar cells and a low-drag design built on a 2700 mm wheelbase. Clean flush surfaces, a flowing hood and roof profile and pronounced rear shoulders ending in a higher trunk lid, combine to reduce drag. Overall length, width and height are 4400 mm, 1850 mm and 1360 mm respectively and careful attention to surface detailing results in a drag figure of just Cd 0.25.
A tapering cabin greenhouse cabin and a longer 'tail' improve aerodynamics while drag reduction is attained through a smooth, one-piece, integrated underbody panel, narrow tyres and flush wheel design. Front driving lamps slide back to create intakes for cooling air when the gasoline engine is being used and a sliding U-shaped deck-lid extends from the rear of the vehicle at higher speeds to reduce drag. Regular door mirrors and door handles are replaced with flush motion-detector cameras for safe lane changing and the door handles are flush-fit units. The front door opening features a forward cutout design for the users' feet – allowing easy entry. The stylish rear doors are rear-hinged, while their height and shape improve entry and exit.
The Ray employs new 'cool car' technology, including nano-laminate films and cool-glazing materials applied to the concept to dramatically reduce solar heat and demonstrate how keeping the interior cool will reduce air-conditioning loads and greenhouse emissions. When the vehicle is parked in the sun, the roof-top solar cells provide a trickle charge that helps operate a cooling fan to reduce cabin temperatures.
Plug-in Hybrid Architecture with GDI and CVT
Under the bonnet, Kia's plug-in hybrid powertrain features a four-cylinder, 16-valve, 1.4-litre Gamma engine is fitted with GDI (gasoline direct injection) technology and tuned to produce 115 ps. A 78 kW electric motor is mounted between the engine and transmission, boosting combined power to a maximum of 153 ps and driving the front wheels via a CVT (Continuously Variable Transmission). Depending on driving conditions, power is sent to the front wheels from the gasoline engine or the electric motor, or both in combination. Inside the trunk, Ray is equipped with a high-capacity LiPoly (Lithium Ion Polymer) battery and cooling system, together with the charger unit and plug-in port. Ray is tuned to reach a top speed of 175 kph.
Further enhancing the EcoDynamics performance theme, the Ray concept's advanced powertrain system is equipped with an energy-saving alternator management system, a gear-shift up/down indicator to encourage economical driving and unique low-rolling resistance 195/50R20 tyres. These are a relatively narrow (195 mm) to reduced frontal area and drag, but with a low profile (50 section) and fitted to large diameter (20-inch) alloy wheels.
Futuristic, Light, Airy and Eco-friendly Interior
Ray's interior features cool white tones to offer the passengers a sense of purity, while also reflecting the heat of the sun, keeping the temperature down and reducing air-conditioner use. White leather offers a more luxurious feel while making the interior more inviting and tranquil. The front and rear seats, which are made from lightweight composite materials, are mounted on side sills to create a floating effect.
Fresh and sustainable materials, like wool flooring, unite to create a simple yet sophisticated and comfortable cabin, with a light-weight touch screen instrument layout featuring push-button engine start/stop and gear selector toggle. The centre stack features the all-new Kia 'UVO powered by Microsoft®' advanced infotainment system, with voice- and touch-activated controls for simple management of music files and hands-free mobile phone operation.
Adding to its list of green technology features, Ray is also equipped with the all-new GreenEdge™ system by Infinity® Audio, complete with loudspeakers that reduce power consumption and an amplifier which reduces the idle power consumption and offers for significant weight savings.
Source: KIA
Gallery:
Kia Ray Plug-in Hybrid Concept (2010)