One of the most heavily modified SEMA vehicles Kia has ever produced, the Ballast Point Sedona takes infield fun during a day at the races very seriously. Serving the premium, handcrafted beers from Ballast Point Brewing & Spirits, the steel roof of the Sedona has been completely redesigned to echo the nautical theme the specialty brewer is known for.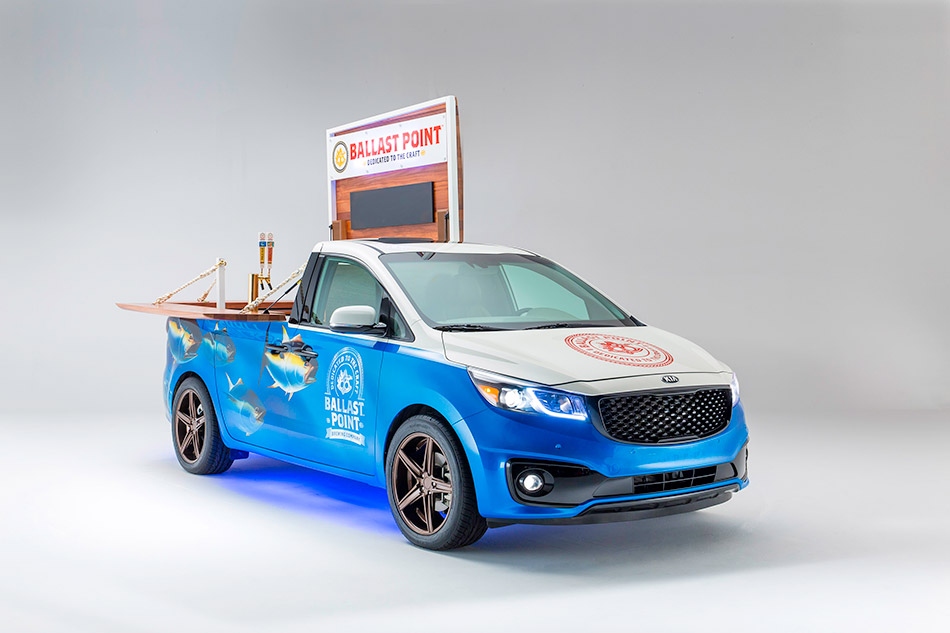 The Ballast Point Sedona features a hand-formed solid mahogany shell with a flip-top roof and fold-down front bar. Removing the roof required the installation of a custom boxed-steel frame that incorporates heavy-duty hinges and struts to allow for the wood clam-shell top to open a full 90 degrees. While one of the Sedona's power sliding doors has been welded shut, the other remains fully functional to allow access for a bartender into the open-air cabin.  The rear shell is also removable, allowing patrons to enjoy a frosty beverage from the tailgate as well.  The passenger compartment has been gutted to make room for two functioning Micro Matic taps, a jockey box with 120-feet of copper beer-cooling coils and up to four half-barrel kegs of Ballast Point's finest.  The front passenger seat has been removed to accommodate storage for extra kegs and supplies.
Hand-built and painted by the artists at LGE-CTS Motorsports, the shimmering rainbow of colors found on Ballast Point's labels are rendered perfectly along the aggressive contours of the Sedona's body panels.  While not street legal, the Ballast Point Sedona is drivable and the suspension has been modified with custom airbags to compensate for the added weight of the kegs.  The floor has been lined so that the interior can be hosed out and handmade custom cabinets allow for ample storage.  Restaurant-grade stainless steel counters and a hidden tank to store meltwater from the jockey box make clean-up a breeze.  Audio speakers have been integrated into the wood roof so that race fans can enjoy music through the Sedona's Bluetooth enabled Infinity audio system.
Built in partnership between Kia and Ballast Point, following the SEMA show, this Sedona will serve as a fully functioning marketing display vehicle for the San Diego-based craft brewery.  When not on tour in 2015, it will be on display at Ballast Point's flagship restaurant and tap room in San Diego, California.
Source: KIA
Gallery:
Kia Sedona SXL Ballast Point (2015)