The fourth generation Lexus GS first went on sale in Europe in 2012 as a three model range comprising the GS 250, GS 350 AWD and the high-performance flagship, the full hybrid GS 450h. Adding a fourth model to the range, the GS 300h will be launched at the end of 2013.
Coinciding with the launch of the new GS 300h, several design, technology and safety enhancements are introduced across the entire GS model range.
The GS 300h will also be available as F SPORT model featuring bespoke design elements and specific technologies for an even more engaging drive.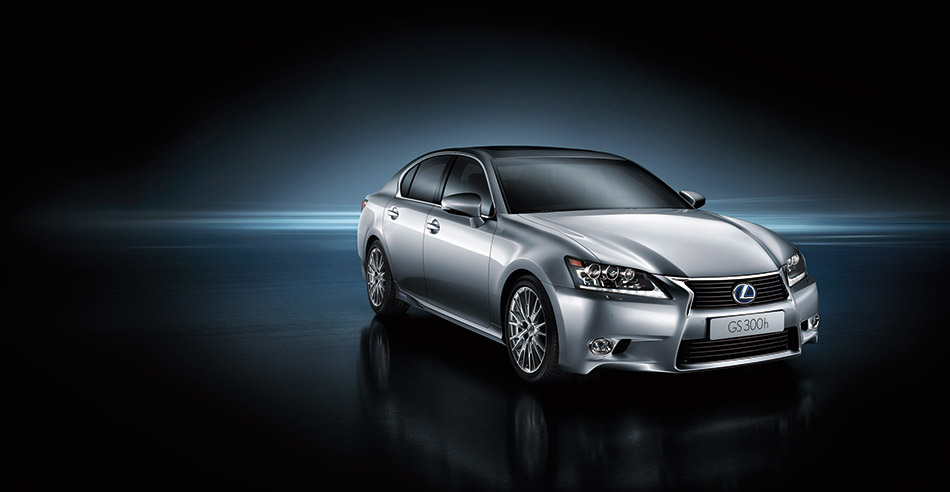 The new GS 300h is equipped with a second generation Lexus Hybrid Drive system similar to that installed in the IS 300h. It offers significant reductions in fuel consumption and CO2, NOx and particulate (PM) emissions, with no loss of performance.
The full hybrid drive system combines a powerful 105 kW/143 DIN hp electric motor with a 2.5 litre, four-cylinder, 16 valve, DOHC Atkinson cycle petrol engine featuring a next generation D-4S fuel injection system, Dual VVT-i and a high-efficiency Exhaust Gas Recirculation (EGR) system. The engine develops 133 kW/181 DIN hp at 6,000 rpm, and 221 Nm of torque at 4,200-5,400 rpm.
With the rear wheels driven through the hybrid system's Electronically controlled Continuously Variable Transmission (ECVT), total system power is 164 kW/223 DIN hp.
Conversely, the new Lexus full hybrid returns ultra-low CO2 emissions starting from 109 g/km and an average fuel consumption of less than 4.7 l/100 km.
As with every model in the GS range, the GS 300h has been designed to offer customers an engaging driving experience. It combines double wishbone front and multilink rear suspension systems with powerful brakes and sharp, accurate steering to offer drivers agile handling, excellent body control, outstanding high speed stability and all the ride comfort appropriate to a Lexus performance sedan.
As with GS 450h F SPORT model, the new GS 300h F SPORT may be equipped with leading-edge, driving dynamics-enhancing technologies such as Active Variable Suspension (AVS).
The new GS 300h shares the bold, dynamic exterior design of the rest of the GS model range, including an aggressive frontal treatment featuring the brand's trademark spindle grille design. A further development of Lexus' unique, L-finesse design philosophy, it gives the GS range the powerful, commanding road presence appropriate to a Lexus performance sedan.
A new range of F SPORT-specific exterior colours will be introduced with the launch of the GS 300h – F White, Starlight Black and Midnight Blue. LED foglamps are also now available on F SPORT models and, previously only equipping the F SPORT grade, 19" alloy wheels are now available on Luxury grade GS models.
The spacious, beautifully crafted GS interior represents a continuation of the next generation Lexus interior design theme. An ergonomically designed, dual-zone, driver-focused cockpit with advanced Human Machine Interface technologies enables customers to remain alert and comfortable over long periods of time.
Several highly innovative technologies made a first appearance in the fourth generation GS model range. An 'S-Flow' energy saving air-conditioning system with integrated climate management and 'nanoe' technology; a second generation Remote Touch Interface (RTI) linked to one of the world's largest on-board multi-information display screens; and a choice of audio systems offering unparalleled power and clarity.
The introduction of the GS 300h sees the GS range interior enhanced by a new, boot-type shift lever design and the availability of a new full-colour Head-Up Display (HUD) system.
The Lexus GS model range is comprehensively equipped with one of the most technologically advanced active safety and driver assistance system package available on the market today. An Advanced Pre-Crash Safety system (PCS) incorporates a Driver Monitor Camera, and a complementary Adaptive Cruise Control system (ACC) functions at all speeds down to 0 km/h on the GS 450h and the new GS 300h.
Additional active safety features include a Lane-Keep Assist (LKA) system and the Lexus Night View system, and, newly available with the GS 300h, a Rear Cross Traffic Alert (RCTA) system. RCTA employs the BSM (Blind Spot Monitor) radar to alert the driver to approaching vehicles when backing out of a parking space.
Through a unique combination of low maintenance and running costs, significant tax incentives or benefits, and high residual values, the full hybrid technology of the new Lexus GS 300h will offer customers considerable cost of ownership advantages.
The GS 300h's Lexus Hybrid Drive system has been specifically engineered for outstanding durability and low maintenance.
The powertrain has been designed with no requirement for a clutch; the starter motor and alternator are integral to the hybrid system and require no servicing or replacement over the life of the vehicle; and the conventional timing belt has been replaced by a maintenance-free timing chain.
Lexus Hybrid Drive technology has a positive impact on both brake and tyre wear. Over the course of 90,000 km, the GS 300h is expected to require no disc replacement, just one set of new brake pads and only one new set of tyres.
Rigorously assessed for performance and durability, and backed up by over 15 years of in-service experience, the full hybrid battery is designed to last the entire life of the car.
Combining this component longevity with reduced labour times during servicing, GS 300h maintenance costs over 90,000 km are expected to be amongst the lowest in the segment.
Producing ultra-low CO2 emissions starting from just 109 g/km combined with superior fuel efficiency of less than 4.7 l/100 km, the GS 300h combines low running costs with significant tax incentives or benefits in many European countries, including France, Spain and UK.
Lexus Hybrid Drive has now established itself as extremely economical in terms of both consumption and depreciation. In recognition of this, the GS 450h has already won the 2013 Wertmeister Award (a collaboration between Auto Bild and Eurotax) for the lowest depreciation in its class, reinforcing the high levels of confidence customers place in Lexus full hybrid vehicles.
Source: Lexus
Gallery:
Lexus GS 300h (2013)