Making its global debut at Goodwood is the brand new Elise S Club Racer. Following the hugely popular 'Club Racer' variant on Lotus' entry level 1.6 litre Elise, the lighter-weight, enthusiast orientated package is now available on the supercharged 1.8 litre Elise S. The Club Racer concept comprises funky colour schemes, the innovative application of materials and enhanced driving dynamics and performance, all of which make for a compelling purchase for Lotus purists and track day enthusiasts.
Achieving a weight reduction of 19.56kg* over the standard Elise S, the Club Racer boasts an improved power to weight ratio delivering 240bhp per tonne, it accelerates to 60mph from standing in 4.2 seconds, and reaches a top speed on 145 mph – in short, it's a little animal!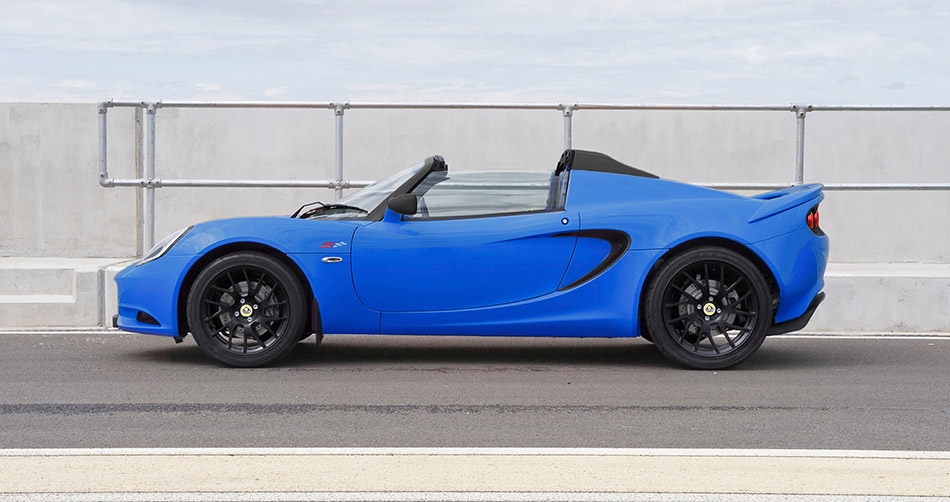 Those in the market for a Lotus will know that what matters most is how the Elise S Club Racer feels to drive; it goes without saying that the Club Racer is developed with Lotus' legendary dynamic performance. The Elise range, now extending to its 4th variant delivers thrilling driving dynamics thanks to Lotus' trademark agile and precise handling. Communication is key here; the Elise S Club Racer delivers plenty of feedback so that the driver has optimum control and can intuitively deploy nimble steering and acutely accurate braking.
Real enthusiasts can even manage to reduce the weight of the Elise S Club Racer a further 8kg by specifying track-use, dealer-fit options such as a TRD air box and filter element and a sports exhaust.
The stripped-out, race inspired Elise S Club Racer benefits from both a weight-reduction initiative and the extra power of a supercharger, it's a compelling proposition for sportscar fans; it is quick, goodlooking and most of all – fun to drive!
The Elise S Club Racer at a glance:
6 paint colour options including 4 new colours to the Club Racer family all of which are exclusive to the Elise S Club Racer. Aspen White, Carbon Grey, Chrome Orange*, Toxic Green*, Daytona Blue* and Formula Red* (*exclusive to Elise S Club Racer.)
'Black Style' pack as standard
Matt Black paint feature panels; Roll hoop cover, rear transom panel and mirror pods
Elise S Club Racer logos
Unique seat and interior details
Pricing
Prices below are an illustration of pricing structures in selected markets only.
Elise S Club Racer Elise S
UK (incl VAT) £35,600 £36,200
EU (Excl Taxes) €37,500 €39,202
* Includes driver and passenger airbag deletion as a non cost option.
Fuel consumption for Elise S:
Urban 27.3 mpg – 10.3 litres / 100km
Extra urban 47.6mpg – 5.9 litres / 100km
Combined 37.5 mpg – 7.5 litres / 100km
CO2 emissions 175g CO2 / km
Source: Lotus
Gallery:
Lotus Elise S Club Racer (2013)