A complete new front spoiler with integrated state of the art LED permanent daylights, extreme air intakes and striking carbon fibre elements give the Bentley a true bred racing car trait. The side skirts and the fender attachments clearly express the motoring appearance and honour the wide body definition. Likewise on the front there are large air intakes and carbon fibre elements which are supporting the sporty impression. The complete redesigned rear skirt with the rear trunk spoiler incorporates the double quad chromium plated stainless steel exhaust system which makes the vehicle unforgettable.
Sport air filters and the sport catalyser completed system give a sonorous dominating unique sound. With the MANSORY electronic engineering package the performance grows up to 641bhp, 650PS, 478 kW at 6100rpm on to a top speed of 205 mph or 330 km/h evolving in a gigantic peak torque of 780 Nm, 575 lb ft by only 1.600 rpm. The acceleration is 0 - 100km/h 4.5 seconds respectively 0 - 60mph/h 4.3 seconds.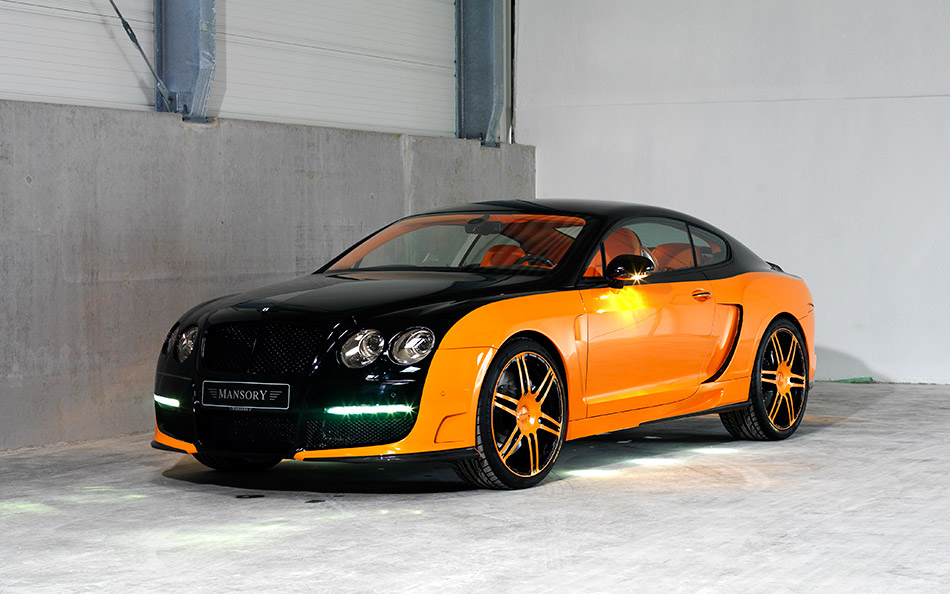 The absolutely lightweight fully forged wheels in size 10 x 22J with 265/35/22 high performance profile tyres and 10 x 22J with 305/30/22 tyres contribute to a sporty appearance supported to the e-lowering suspension system up to 30mm. Genuine carbon fibre trim inserts, sport steering wheel in Leather/Carbon combination and a real carbon fibre 4-parts engine cover are more detailed racy highlights.
More inside wafer and perforated finest leather works and Alcantara, illuminated sill plates in stainless steel with a lighted LE MANSORY Logo, high polished. Foot pedals 3-parts like accelerate pedal, brake and rest pedal in stainless steel high polished punched. Floor mats for the foot area with LE MANSORY logo stick with leather border, everything selectable in special trendy colours for example shown here in black/orange.
Accelerate with us and be one of 24 individualists with this limited modification program for your Bentley Continental GT.
Source: MANSORY
Gallery:
LE MANSORY Bentley Continental GT (2008)