Also premiering at the 74th Geneva Motor Show is a new face lifted version of Mazda's stylish and athletic sports utility vehicle (SUV) Mazda Tribute. Since its debut in 2000, Tribute has attracted a growing number of customers looking for an appealing yet rugged SUV with high levels of build quality and craftsmanship, new-generation driving attributes and high levels of safety. The new version features a redesigned exterior for a stronger sense of refinement, a new centre instrument panel and seat fabric on the inside, the introduction of a 2.3-litre MZR petrol engine, new all-wheel drive (AWD) technology, and upgraded passive and active safety features.
Exterior Design
The new Mazda Tribute features exterior design details that give it an even stronger sense of passenger-car refinement, while retaining its unmistakable SUV ruggedness and new-generation sportiness. The new front end now features a bumper with smaller parting-line height differences and a smoother surface, smaller diameter fog lights integrated to a greater degree into the bumper design and a body-coloured grille.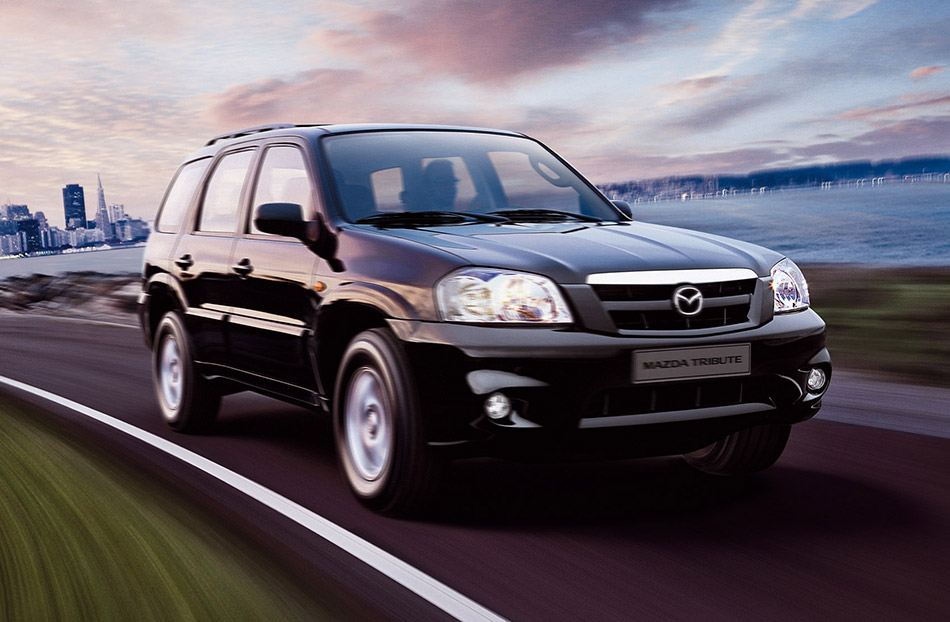 Add to this new headlamps, each with their own bezel, and you have a front end design intended to convey more SUV toughness and strength.
This theme is carried over to Mazda Tribute's silhouette, which features new 16-inch aluminium wheels with a striking rim shape and a robust five-spoke design. There are also new cladding panels, rocker and wheel-arch mouldings with bolder contours that form smoother extensions of the side body shape, and enhance Mazda Tribute's near car-like sophistication. The rear wheel-arch mouldings are now flush against the rear bumper, creating a greater sense of continuity of form front to back. Completing the facelift exterior are new rear lamps featuring a clear, red lens over the two vertically aligned lights.
Four new body colours enhance Mazda Tribute's new look as well, depending on grade and market availability, while the choice of monotone vehicles — with bumpers and cladding the same colour as the body — has been increased from one to four.
Interior
On the inside, Mazda Tribute has a new centre instrument panel design with dials that are flusher with the panel for a greater quality feel. Interior quality feel has been further enhanced by a newly designed four-meter driver cluster ringed in silver-look bezels with new meter graphics, including a red zone on the tachometer for a touch of sportiness.
The floor console is completely redesigned. It has a more modern appearance and is larger, able to hold up to 17 CDs. For vehicles with automatic transmission, the gear lever has been moved from the steering column to the floor console. Forward of this is a new small storage space. The larger of the front cup holders is bigger and now includes a rubber insert that allows it to hold a wider range of cup sizes. There are cup holders at the back of the console for rear seat occupants as well.
The climate control system now features a new arrangement of dials. They are now located at the centre of the instrument panel and include a separate ON/OFF switch for air conditioning. Rounding out Mazda Tribute's new interior is new mesh fabric seat trim, standard on all models, and elegant leather seats as an option.
NVH Improvement
The new Mazda Tribute's interior not only has a stronger sense of quality and console functionality, it is also a quieter and more comfortable place to be. Wind, road and powertrain noise have been significantly lowered by the use of more sound-insulation material. Improved body sealing has reduced air leakage considerably and there is now thicker noise insulation material on the dash and quarter panels, and the tailgate. Several body parts have been redesigned to produce less wind noise as well. These include mirror housings and mirror gaskets, as well as improved B-pillar cutline seals. As a result, road and wind noise have been reduced even further, which contributes to the overall driving comfort of a vehicle that already possessed high levels of this to begin with.
Dynamics Performance
The new Mazda Tribute features a range of powertrain and chassis improvements that enhance the vehicle's already high levels of driving enjoyment. These include a new and powerful 2.3-litre MZR petrol engine, replacing the 2.0-litre engine, and new four-wheel disc brakes as standard on all versions.
Engines
The new Mazda Tribute retains the 3.0-litre petrol V6 engine, which delivers superior engine performance and smooth engine operation.
New to the line up is a 2.3-litre 110 kW/150 PS MZR petrol, replacing the 2.0-litre engine. A slightly more powerful version of the large petrol in the Mazda MPV, Mazda Tribute's new four-cylinder engine delivers agile performance and combines this with good fuel economy and smooth, quiet operation. It features a rigid, closed deck cast aluminium-alloy cylinder block — made even more rigid by an aluminium bearing-cap beam integrated into the lower cylinder block — along with a deep skirt construction that ensures a tight seal against the cylinder head for reduced operating harshness. The pistons are lightweight with molybdenum-coated skirts, and connecting rods are sinter-forged with fraction-split big ends, both of which contribute to low levels of engine noise. For even more operating smoothness, the engine has a compact, cassette-type balancer shaft with eight counterweights that turns at twice the speed of the crankshaft, and a crankshaft pulley equipped with a torsional damper.
The new engine also features a variable intake-air system (VIS), for good amounts of torque and agility. Located in the intake manifold, VIS controls the intake passage length by opening and closing the secondary air chamber valve according to engine speed to optimise cylinder charge effect. As a result, the 2.3-litre MZR produces 200 Nm of maximum torque at 4000 rpm with a top speed of 171 km/h, making it responsive and agile in all driving situations, both on and off-road. And SUV driving flexibility is not achieved at the cost of consumption or emissions. The new Mazda Tribute equipped with the 2.3-litre MZR petrol uses a combined 10.4 litre per 100/km (3.0-litre V6 11.8 litres) and produces 244 g/100 km of CO2 (3.0-litre 277).
The new Mazda Tribute also has a stainless steel exhaust manifold, which helps lower emissions, and a new close-coupled catalyst structure, which ensures quick catalytic heat up. An electric vapour-management fuel system minimizes fuel evaporation into the outside air as well. As a result, the 2.3-litre MZR achieves a Euro IV emission ranking (the 3.0-litre V6 engine Euro Stage III/D4).
Transmissions
The 2.3-litre MZR petrol comes standard with a new five-speed manual transmission that employs multi-cone synchronizers and a new cable shift system, which reduces shift effort and provides for shorter throw lengths for a superior shift feel. The shift lever is placed in the centre console at a higher position compared to the previous model, which allows the driver to take full advantage of the engine's sporty potential.
The 3.0-litre V6 engine comes standard with a four-speed automatic transmission, which remains the same. However, in the new version the shift lever has been moved from the steering column to a floor-mounted position for easier, more natural shifting. This position also makes audio controls and other controls easier for the driver to see and use.
New AWD Active Torque Control Coupling (ATCC) Technology
The new Mazda Tribute now comes with all-wheel drive (AWD) standard on all vehicles, regardless of engine or grade. The AWD features new ATCC technology that replaces the current electronic rotary blade coupling system. ATCC features sophisticated engine control that continuously monitors wheel speed and throttle position to determine vehicle status and driver intention, to automatically control the electromagnetic coupling that sends torque to the rear wheels. This system has several advantages for the driver of the new Mazda Tribute. It is completely automatic and requires no input from the driver. The system's new electronics allow for more precise traction control. In fact, it practically prevents wheel spin from even occurring in most situations. Because the new engine control unit monitors data continuously, it can react quicker to changing conditions, making the new Mazda Tribute substantially better on gravel, snow and ice.
Suspension and Steering
The new Mazda Tribute retains the chassis system that delivers a superb combination of handling stability and ride comfort both on and off-road. The front suspension employs a MacPherson strut system with robust L-shaped lower control arms that feature rear bushings that incorporate a void aligned in such a way to ensure stability and maximum road input on different road surfaces. Dual-path upper strut mounts achieve superior suspension tuning and an excellent ride, while urethane bump stops ensure effective absorption of shock inputs.
Mazda Tribute features a multi-link rear suspension that employs two lateral links and trailing arms, with the springs located between the trailing arms and the body. This allows for sufficient wheel travel for off-road driving, and maintains the optimum wheel alignment under all conceivable loading and road-surface-input conditions. Another benefit is that the system is space-efficient, allowing the spare tyre to be mounted under the rear floor, not only ensuring good rearward vision, but also providing Mazda Tribute with a modern, urbane look.
Mazda Tribute has a rack-and-pinion steering system with engine-speed-sensitive power assistance that provides good road feedback and precise steering control in all situations. It achieves this by widely spaced steering gear mountings with bushings that include a void aligned in such a way to optimise steering rigidity and reduce vibration.
Safety
Like all Mazda vehicles, Mazda Tribute has always offered high levels of passive and active safety. The new facelift version enhances this with new disc brakes in the rear, replacing the rear brake drums of the former model, with discs at every wheel (303 mm front, 302 mm rear) standard on all vehicles. Brake durability has been enhanced as well by new and larger front calliper pistons, rotors and linings, which translates into much longer service intervals and lower overall maintenance costs. New as well is ABS with mechanical brake assist standard on all models. The brake assist mechanism helps maximize braking force during sudden braking situations and results in an improved brake response and stopping distances.
Passive safety has also been enhanced considerably. Front airbags are now standard, along with a new Occupant Classification System (OCS) that employs a gel-filled bladder in the passenger seat to measure the weight of the front passenger. If a pair of gloves or a map is on the seat, the OCS detects no weight and the passenger airbag is automatically switched off by the car's restraint control module (RCM). If more weight is detected, but less weight than a small adult, then the RCM keeps the airbag turned off and illuminates the "Passenger Airbag Off" lamp on the instrument panel. If a person who is heavier than a child sits in the seat, the RCM automatically activates the airbag and turns the lamp off. This system reliably prevents accidental deployment of the passenger seat airbag by removing the possibility of human error.
Standard on all new Mazda Tribute vehicles are curtain airbags, which replace the side airbags of the previous model. These deliver superior protection to front passengers and passengers in the outer seats in the rear in case of side-impact or roll-over. Other upgrades include a new three-point seatbelt and headrest for the rear centre position, and a reinforced seatback frame with non-detachable hinges and body-side latches to help prevent luggage from sliding into the passenger cabin during frontal impact.
Gallery:
Mazda Tribute (2005)