With a quick glimpse, the CX-5 Urban appears to be merely shrouded in a matte finish.  First impressions have never been more deceiving.  Heavily influenced by design, the vision for the CX-5 Urban was inspired by styles found in fashion and architecture.  With a Mazda Design-developed custom paint process, the dark surface of the CX-5 Urban features multi-dimensional shadows with each triangular-like design shaped to reflect each bend and twist of the vehicle's sheet metal.  Utilizing the KODO "Soul of Motion" design language of the production model, the Mazda Design team translated this initial blueprint into seemingly flat, black surfaces that evoke depth at just the slight hint of light.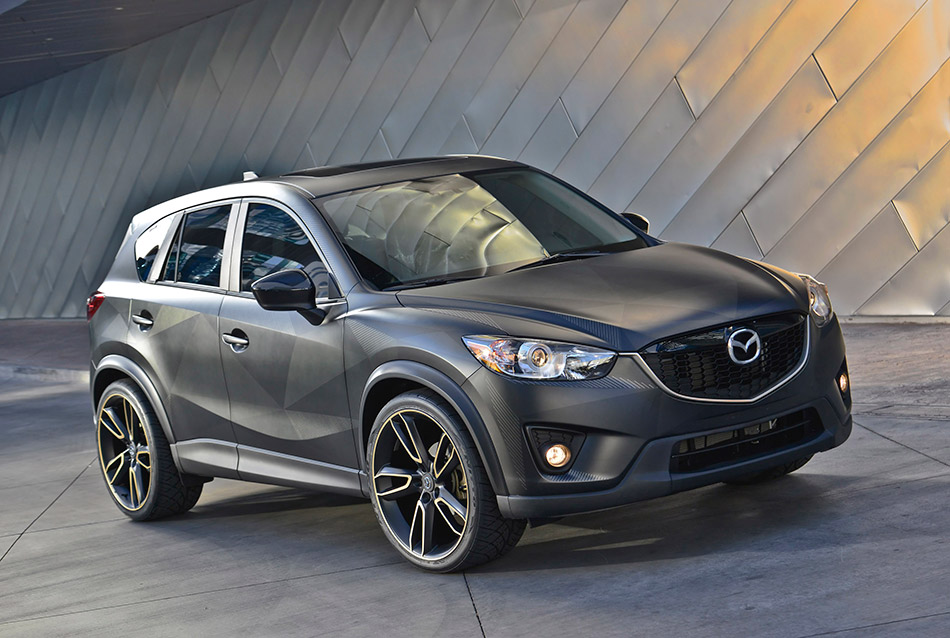 The attention to detail is nothing short of stellar as no two shades of Black Mica touch.  For added refinement without deviating from the stealth-like quality of the CX-5 Urban's dark night appearance, Ore facets appear as thin pinstripes on matte paint surfaces, as an accent outlining the matte black wheels, as a precision feature in the headlamps and as a change of shade to the five-point front grille.
To further sculpt the aggressive nature of the CX-5 Urban are customized wheel flare extensions which perfectly envelop the well-matched pairing of muscular 22-inch Ace Alloy Scorpio matte black wheels and sticky Nitto Tire NT420s 295/30R22 all-season tires.  The CX-5 Urban also features a Racing Beat dual exhaust.
Source: Mazda
Gallery:
Mazda CX-5 Urban Concept (2012)