With under four seconds to accelerate from zero to 100 kilometers per hour, and a top speed beyond the 300 km/h mark, the Astra Coupe OPC X-Treme launches Opel into the super-sportscar elite. This high-performance coupe is powered by a V8 engine with four valves per cylinder developing 326 kW (444 hp), and a huge torque of 530 Nm at 4800 rpm. The "X-Treme" is largely based on the racing car entered in the DTM (German Touring Car Masters) championship, and is a formidable demonstration of how synergies between the race track and public roads can be achieved with only moderate modification. This design study premiered at the 2001 Geneva Motor Show, where it was enthusiastically received by the media and the visiting public.
The "X-Treme" project took shape under the supervision of Opel's subsidiary company OPC (Opel Performance Center GmbH), which is responsible for the company's European motor sport activities and also for the development of exclusive, high-performance products. Created in a mere seven weeks as the result of close cooperation with engineers and designers at Opel's International Technical Development Center (ITDC), the Astra CoupeOPC X-Treme embodies, in concentrated and sensational form, the dynamics and engineering expertise that are channeled into all new Opel products. As OPC's general manager and head of motor sport, Volker Strycek says: "The 'X-Treme' demonstrates how Opel can play in the top league!"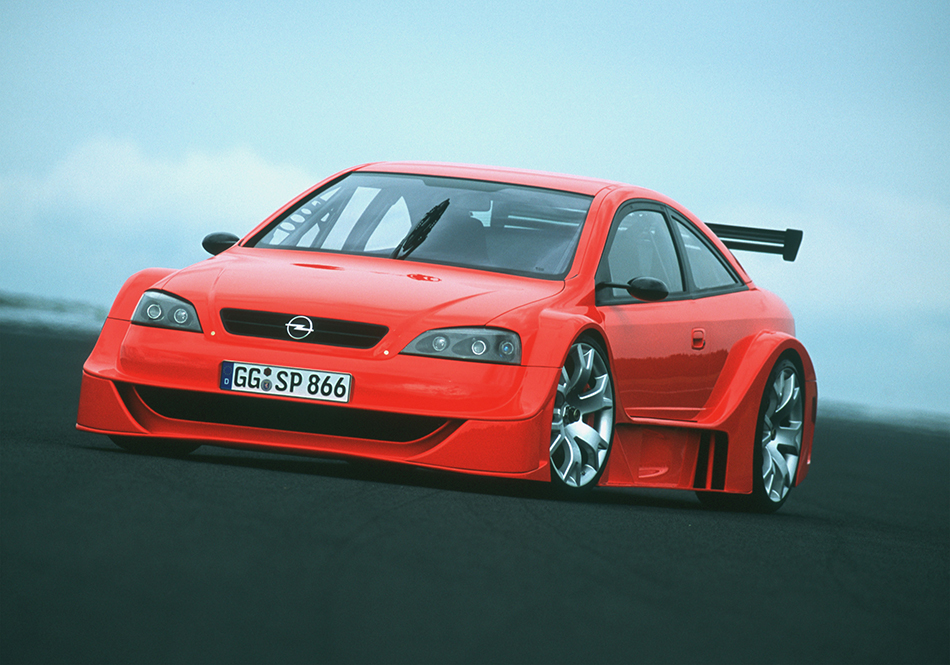 The overall concept of this high-tech sports car is very similar to the DTM racing ver-sion: the safety bodyshell has gull-wing doors and a spaceframe and uses various high-strength carbon-fiber components. The 4.0-liter V8 engine with four valves per cylinder drives the rear wheels through a six-speed, transaxle gearbox located at the rear and there is double-wishbone suspension at the front and rear with a brake sys-tem using carbon-fiber discs at all wheels.
About half of the competition car's components have been modified or redesigned for use on the road car. The body is more harmonious in appearance, with more rounded nose and tail sections, smoother transitions, 20-inch center-lock wheels of new OPC design and a specially-created bright red paint finish. Alcantara fabric, brushed alumi-num trim and many details crafted to a very high standard are to be found inside the "X-Treme", which manages to combine sports car character with a distinguished 'techno-look'. The seats, which feature five-point seat belt harnesses, have carbon-fiber reinforced shells just like the DTM racer, although they are more comfortably up-holstered for non-competition driving.
The engine has also been modified to better suit road driving conditions. The valve timing and electronic management software have been modified, the compression ratio lowered and the flywheel mass increased in order to give the engine the operating characteristics needed for more day-to-day use. Yet with its power output of 326 kW (444 hp) and an unladen weight of only 1150 kilograms, the Astra Coupe OPC X-Treme is among the very fastest sportscars in terms of performance.
Volker Strycek comments: "Both the media and the public have reacted very enthusi-astically to the 'X-Treme'. After its debut in Geneva, we received a number of sponta-neous orders. As you can imagine, we are very tempted by the idea of producing a small, exclusive batch of these cars, each 'X-Treme' equipped to customers' personal preferences. This would also be an opportunity to explore new sales and customer service concepts. For instance, buyers might be able to log into the internet and see their cars being built, step by step."
Source: Opel
Gallery:
Opel Astra Coupe OPC X-Treme (2001)