An all-new Hatchback version of the Honda Civic carrying the legendary "Si" badge will go on sale in early 2002, American Honda Motor Co., Inc., announced today at the New York International Auto Show.
The Civic Si prototype on display in New York is based on the three-door hatchback recently introduced in Europe. Under the hood is a high-output DOHC 2.0-liter i-VTEC engine that produces 160-horsepower and 130-lbs/ft of torque, while attaining Low Emission Vehicle (LEV) status. The i-VTEC engine is the next generation of cleaner and more powerful engines that feature Honda's patented VTEC (Variable Valve Timing and Lift Electronic Control) technology.
A unique, performance oriented close ratio 5-speed manual transmission is mounted, rally-style, on the center dashboard. The close proximity to the steering wheel allows for quick shifts and a sporty feel.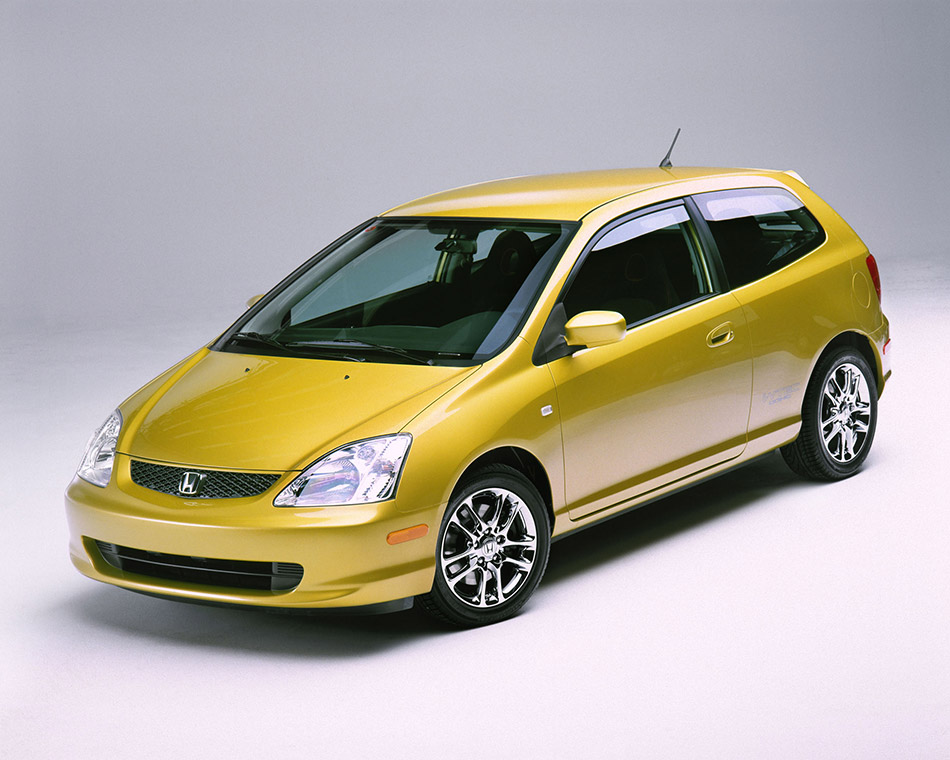 "This new model plays two relatively small but important roles in the Civic lineup by meeting consumer demands for a hatchback and the return of the Si," said Tom Elliott, executive vice president of American Honda. "The Civic Si Hatchback has contributed a great deal to the history and reputation Civic enjoys and we're looking forward to having one back in the lineup."
The Si offers high performance with a sporty exterior package and performance oriented interior. The new 2.0-liter i-VETC engine delivers 160 horsepower and 130-lbs/ft of torque, the most ever for a Civic. Firmer dampers and springs combined with front and rear stabilizer bars and larger wheels and tires along with standard Electronic Brake Distribution (EBD) and ABS contribute to sporty handling. Interior features include highly supportive sport seats, performance-oriented gauges. Exterior features include a mesh grille, a rear spoiler and a dual tipped performance exhaust.
The heritage of legendary Si performance stretches back to 1984 when the first Civic S Hatchback was introduced. In 1986 the "S" evolved into the Civic Si with added interior and exterior features along with suspension upgrades. The 1988 to 1991 Civic Si Hatchback captured the attention of a growing number of sport compact car enthusiasts, just as that market was beginning to emerge in the U.S. Beginning in 1992, Civic Si Hatchbacks incorporated Honda's famed VTEC engine technology. After a brief hiatus, the Civic Si reappeared for 1999 and 2000 models in coupe form.
The Civic Si Hatchback will be produced at Honda of the U.K. Manufacturing plant in Swindon, England.
Source: Honda
Gallery:
Honda Civic Si Concept (2001)