At the 2008 Paris Auto Show the world got its first full view of Honda Insight Concept model, which shows the design direction that the new dedicated hybrid model will take.
Honda has always intended Hybrid vehicles to be a bridge to a hydrogen powered future, the potential of which has already been demonstrated by the leasing of the first Honda FCX Clarity.
The Honda Insight Concept has clear stylistic links to the world's first production fuel cell car, with both vehicles' forms shaped to maximise their aerodynamic efficiency and therefore reduce fuel consumption.
The Honda Insight Concept is the stylistic inspiration for the production version which will go on sale in 2009. From this unique position in the marketplace, Honda Insight will open hybrid technology to a new generation of customers.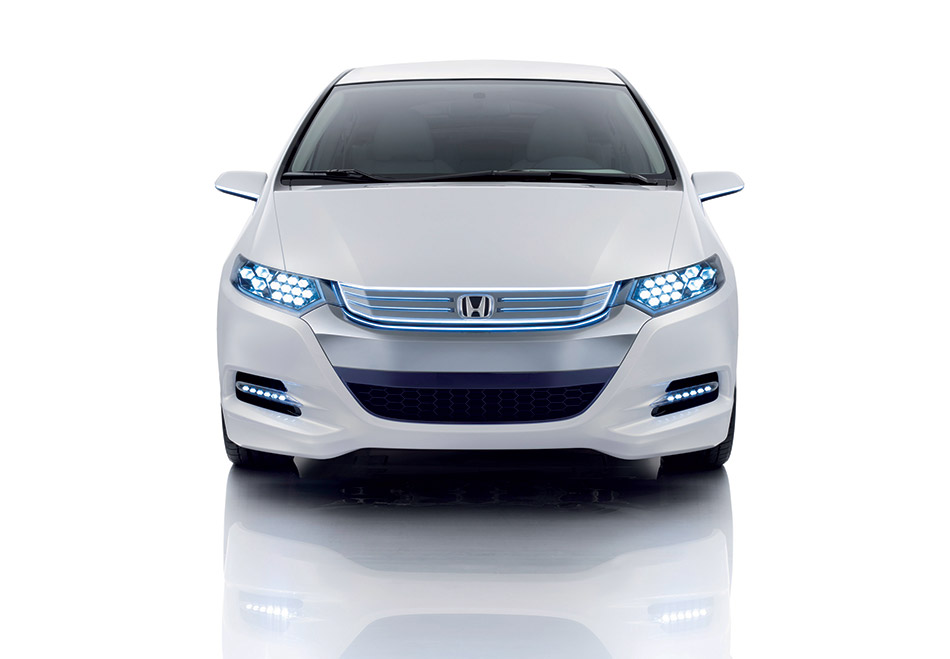 Honda Insight's cost savings are partly possible because processes have been continuously improved to make them faster and therefore more efficient. Honda engineers have refined many aspects of the production process to make them more efficient to perform to increase production capacity and plant efficiency.
A cornerstone of the cost reduction is the refined version of Honda's award winning IMA system, combining an electric motor with a refined, low emission and efficient petrol engine. This petrol-electric engine and CVT gearbox together give low CO2 and NOx emissions, and also achieves inherently excellent refinement.
Along with the Honda Civic Hybrid, the new vehicle will be produced at Honda's Suzuka factory in Japan which recently has expanded hybrid motor production line.
CO2 emissions and fuel economy are targeted to be at a similar level to the existing Civic Hybrid, giving drivers a flexible and highly practical lower environmental impact car. At its expected price point, Honda Insight will have a unique combination of passenger space, luggage capacity, emissions and economy.
The Honda Insight will form the first part of Honda's new hybrid strategy, which will see a further dedicated hybrid model, derived from the Honda CR-Z show car, and a hybrid version of the Honda Jazz. The strategy will make hybrids both more accessible and more appealing to a range of customer types.
The Honda Insight Concept is the culmination of two decades of hybrid petrol electric hybrid research and development. The Honda Insight production vehicle will go on sale in Europe, Japan and North America during the first half of 2009.
Source: Honda
Gallery:
Honda Insight Concept (2008)