The name of AHG-Sports, founded in 2009 as tuning brand of the car dealer Guenther at Hamburg, Germany, is worth to be noticed. Since 1977 the Hanseatic car dealer is THE expert for new and used Nissan cars, acting on four places on the Elbe river meanwhile. The premium brand of Infiniti is present with success since 2009 in Hamburg and, since 2010 also in Berlin and Frankfurt. Comprehensibly, the "tuning spin-off" under direction of Michael PENNING is more orientated towards Infinity, the noble brand of Nissan. Here, high quality tuning and exclusive service are in perfect combination.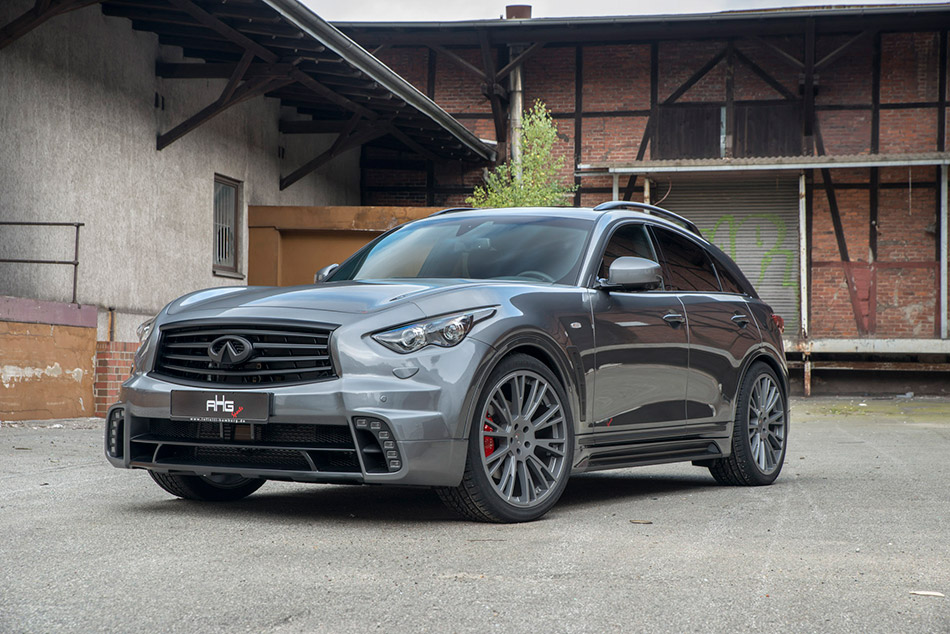 This time the "object of desire" is a QX70, SUV series Infiniti. The V6 turbo-diesel with three liters of engine size was beefed up by a body kit named LR2. The said body kit includes the clearly structured front bumper with LED day lights, side skirts, painted in car color wheel moldings, the rear bumper and the fitted end pipes of the exhaust system. The LR2 body kit is offered by AHG-Sports for 11,900 € including mounting and registration. In this special case, the complete price of the car including accessories, shipping and VAT is of 89,900 €.
 
But who wants to optimize only single parts, for them AHG-Sports offers the following single positions: brake calipers in red with "Infiniti" lettering for 1,200 €, engine covering painted in red for 200 €, door handles in car color for 600 €, painted in mat black roof rails and radiator grill for 1,150 €, chrome trims all around wrapped in mat black for 980 €. The following five positions include AHG-Sports own material: Lowering by 25 mm for 1,250 €, wheel set CLR22 DB703 with tires 285/35R22 for 5,900 €, wheel spacing by 15 mm for 500 €, power optimization up to 281 HP (= 207 kW) and 613 Nm for 1,250 € and – last but not least – a sports exhaust system after DPF for 2,990 €.
Source: AHG-Sports
Gallery:
AHG-Sports Infiniti QX70 (2015)