MINI USA has collaborated with the extreme California based tuner FIREBALL TIM RACING (FTR) to create a one-of-a-kind record-breaking dragster. The extreme MINI made its show debut, beating 300 competitors to win the "Best Engineered" award at the Hot Import Nights in Phoenix, Arizona Saturday, October 15th, 2005.
The outrageous MINI dragster stood out in an atmosphere thick with music, models and impressive custom cars as the crowd of over 15,000 carved their way through the best of the best. From the coolest Japanese and German tuners to high end exotic wonder cars, the MINI dragster wowed judges and onlookers with its polished under-hood hardware and eye-catching graphics.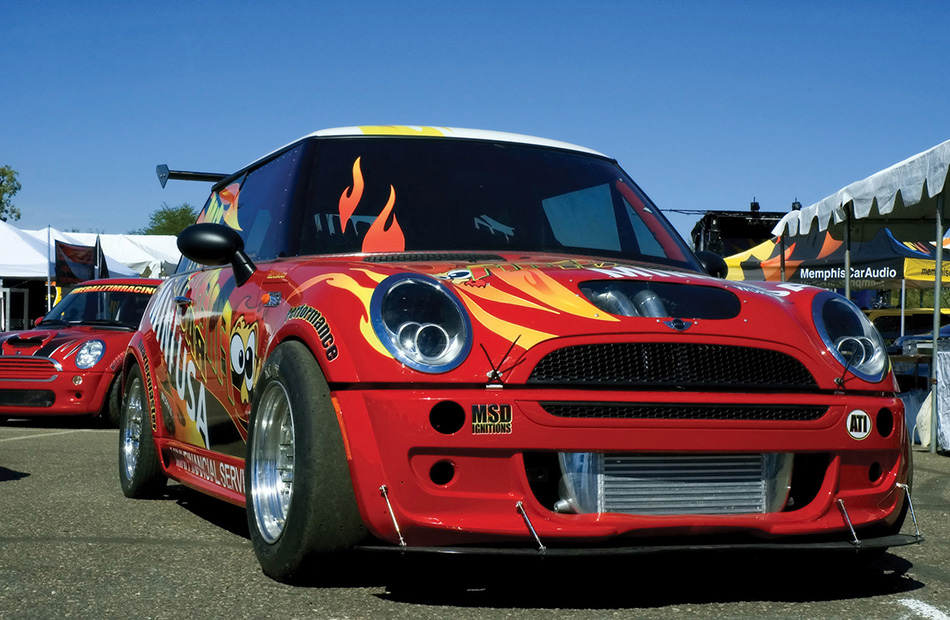 MINI USA provided FTR with a carbon-fiber bodied, 1700lb MINI Cooper S with John Cooper Works and an assortment of parts and accessories to create the 500 horsepower + twin-charged drag monster. The car will appear at select events through the end of 2005, making its performance debut at the NHRA Sport Compact World Finals in Pomona, October 22 followed by an appearance at SEMA in Las Vegas, November 1 - 4.
Hollywood car designer and constructor Fireball Tim (Lawrence), and partner, import drag racer and tuner, Hubie Fuh have built the show-stopping MINI dragster. The two specialize in creating all forms of extreme, record-setting street and race cars. FTR currently holds the title "World's Fastest Street MINI" with a turbo, supercharged and nitrous powered MINI Cooper S pulling 12 second quarter-mile track times.
"MINI USA is excited to collaborate with Fireball Tim Racing to help us promote MINI's prowess in the import drag world." said Jeff Stracco, MINI Product Manager. "With its compact dimensions and lightweight carbon fiber body, this MINI project car will be a true David amongst Goliaths on the drag strip. And of course winning an award right out of the gate is a pretty impressive way to start."
"As MINI enthusiasts we are very excited to be partnering with MINI USA to create a unique one-of-a-kind rocket," said Fireball Tim. "To have this car beat out 300 others for "Best Engineered" is not only an awesome testament to the platform but to all the hard work everyone has put into the project so far - just wait till we get it on the strip!"
Fireball Tim
Fireball Tim is famous for his many maniacal movie car designs from films like SON OF THE MASK, JURASSIC PARK and about 50 others. The Fireball Tim brand includes TV programming, toys, clothing, and candy sold in retail outlets nationwide, including Wal-Mart.
Source: MINI
Gallery:
Mini Fireball Tim Racing Dragster (2005)