The Matra-Renault partnership revolutionized the automotive world in 1984 with the launch of Espace. They had equally ambitious aims for Avantime, an avant-garde vehicle inspired by the famous MPV.
From concept to reality
In the early 1990s, Philippe Guédon, head of the automotive division at Matra, noted a change in the customer base of Espace. He believed that the children of Espace owners remained loyal to the car even after they had grown up and left home. As a result, the renowned MPV was gaining a generation of new drivers, looking for a concept with a stronger focus on driving pleasure.  Matra came up with a response in the form of CoupéSpace, a bold concept combining the dimensions of Espace with the layout  of a conventional 2 + 2 seater coupé.
In 1998, Renault and Matra officially formed a partnership for Avantime. The CoupéSpace project was adopted and renamed Avantime. The new vehicle borrowed the chassis of Espace III, developed by Matra, and Renault took charge of the design process. The key word was innovation.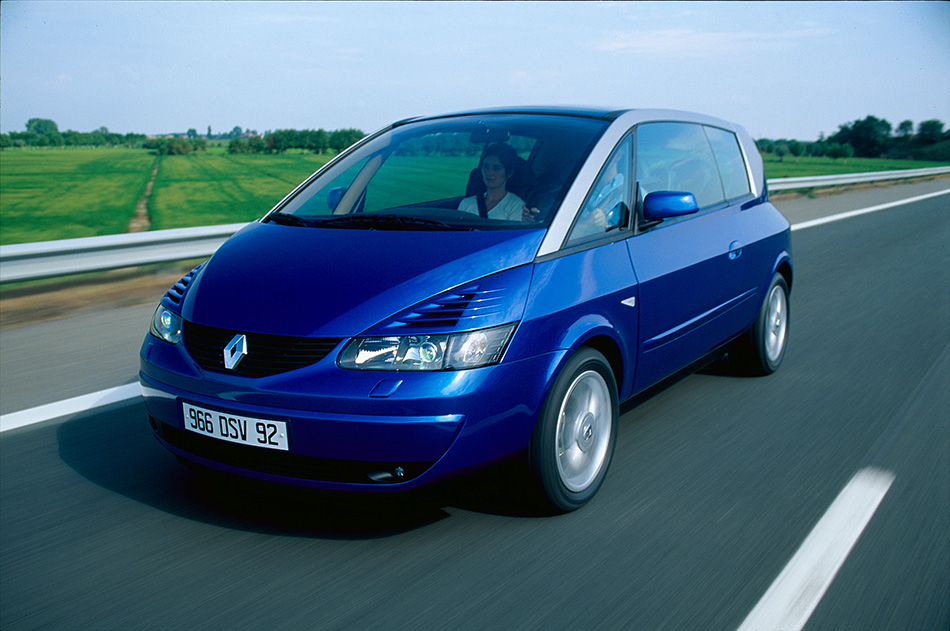 Closer to the top of the range
Unveiled as a concept car at the Geneva Motor Show in March 1999 and quickly presented at the Frankfurt Motor Show in September 1999, Avantime arrived on the market in early 2001.
The design was based on a new architectural concept. The unusual proportions respected the fundamentals of executive vehicle design: safety, comfort, ride, equipment. Through a subtle alchemy, Avantime combined the values of several types of vehicle. It had the "one-box" architecture, space, functionality and user-friendly features of an MPV, the design, drivability and dynamic ride of a coupé, and the exhilarating sense of freedom of a cabriolet, with an "open-air" function that dropped the side windows when the sunroof was opened, a feature made possible by the absence of B-pillars.
The double-kinematic hinge system on the doors provided easy access with minimal swing. The upper structure was made of aluminium.  The latest result of Renault's partnership with Matra, Avantime was designed to open a "3rd way" for Renault's success in the executive market.
Renault, creator of vehicles
In May 2003 Renault announced that it was ending production. In the space of two years, just  8,557 units had left the Renault plants. A commercial failure that can be explained by the high price and by the fact that the launch was frequently put back. A diesel version was cruelly lacking in the first few months, when only the V6 3-liter gasoline engine was available. Also, the launch coincided with that of another Renault executive vehicle, Vel Satis. These simultaneous events were quickly confused in the minds of the public.
With this concept car, Renault nevertheless confirmed its status as a creator of vehicles. Rather than simply producing cars, the firm took on board the new requirements of innovation, original styling and bold industrial concepts.
Today, Avantime is a precious find for collectors of rarities!
Source: Renault
Gallery:
Renault Avantime (2001)