In the highly competitive world of S.U.V.s and crossover vehicles, product development moves with lightning speed. Take the Mitsubishi Outlander for example. A year after its successful debut the Outlander offers a new, more powerful 2.4-liter MIVEC four-cylinder engine. Thanks to the additional power provided by variable valve timing, the Outlander will attract buyers already impressed by the vehicle's smart styling, intelligent design and thoughtful packaging. "With a stylish image, flexible design, and now more power, the Outlander offers a unique, highly functional and spirited alternative in the growing entry-level S.U.V. category," said Finbarr O'Neill, co-chairman and chief executive officer of Mitsubishi Motors North America, Inc. (MMNA).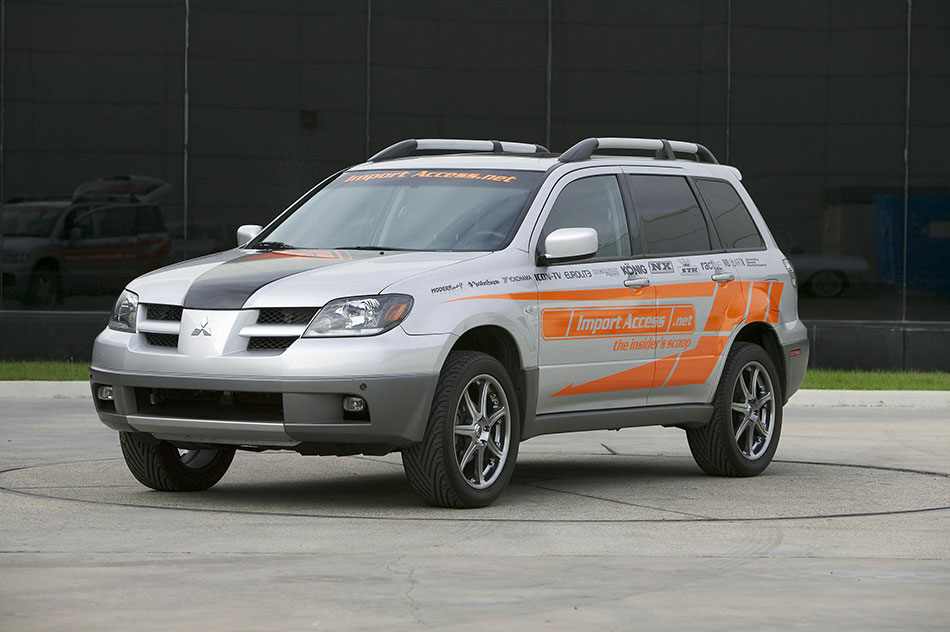 FUNCTION AND UTILITY
The Outlander's ideal ride height facilitates hassle-free entry and exit while maintaining the empowering, elevated driving position that S.U.V. owners prefer. The Outlander's four doors open wide to reveal a roomy passenger environment with generous legroom. A roomy cargo bay is ready to tackle any stowage challenge whether it's gear for a weekend trip to the beach, the monthly run to Costco, or simply getting the kids to school. For individuals in pursuit of an adventure less urban, optional tubular roof racks can easily be adapted to carry bikes, surfboards, skis or just about any equipment that adventure requires.
For individuals in pursuit of adventure, optional tubular roof racks can easily be adapted to carry bikes, surfboards, skis or snowboards. The Outlander, available in two- and four-wheel-drive configurations, is ready for use in any climate.
STYLISH EXTERIOR
The Outlander's image, character and attitude are encapsulated by an appealing exterior design that offers a unique and aggressive departure from the "cute-ute" compact S.U.V.s that seem to have flooded the market. The Outlander XLS' clear rear tailIight lenses and rear spoiler add a taste of urban-chic and tuner styling to the compact S.U.V. class. The Outlander's exterior color choices include appealing hues that would be at home on the skin of a larger S.U.V.. A two-tone effect is created as painted sheet metal is offset by the heavy-duty gray plastic that makes up the Outlander's bumpers and side sills.
The Outlander maintains a drag coefficient of 0.43, which is on par or better than most offerings in the class. The Outlander's sheetmetal body construction also involves many new processes to improve fit, finish and safety. For instance, both the outer and inner door panels use a single-piece pressed steel construction that improves door fit and rigidity.
SPACIOUS, REFINED INTERIOR
On the inside, the Outlander is a compact S.U.V. replete with all the conveniences and interior styling details one would expect to find in a more upscale model. The interior-much of it covered by textured materials-features intuitively placed gauges and controls that are easily monitored from the raised, ergonomically adjusted driving position.
For 2004, it's not so much what you see, but what you hear that's important. Or rather, it's what you don't hear. Several measures were taken to reduce cabin noise levels, including the addition of front-deck and fender insulation. The dash panel insulator's thickness was also increased to keep engine noise in the engine compartment. A large intake resonator was also added to further reduce engine noise. The result is an even quieter cabin for the Outlander.
The Outlander's roomy and inviting interior was designed to create an appealing, comfortable environment with conveniently accessible functions. To maximize interior space, Outlander offers an optional outer-slide style sunroof that creates more headroom. The instrument panel is highlighted by detail-oriented items such as the chrome-like finish of the analog clock's trim ring, and the round, easy-to-use air vents. Front console compartments, an armrest, and easy-to-read round gauges - which also include an LCD display of the automatic transmission's sports mode status - give the Outlander's cockpit an upscale feel.
The Outlander's flexible seating and expandable space make trips to the hardware store or driving range that much simpler. The versatile rear cabin area - featuring split, flat-folding rear seats with adjustable backs - yields a generous cargo area that can handle a variety of stowage headaches. The hydraulically-assisted rear lift gate can be operated with one hand and swings high to clear taller heads, while a knee-height cargo floor, which hides the spare tire, eases the lift-over and accessibility of loading. An optional cargo-area tonneau cover, standard on the XLS model, keeps goods out of sight. When not in use, the cover can be stored under the cargo floor lid.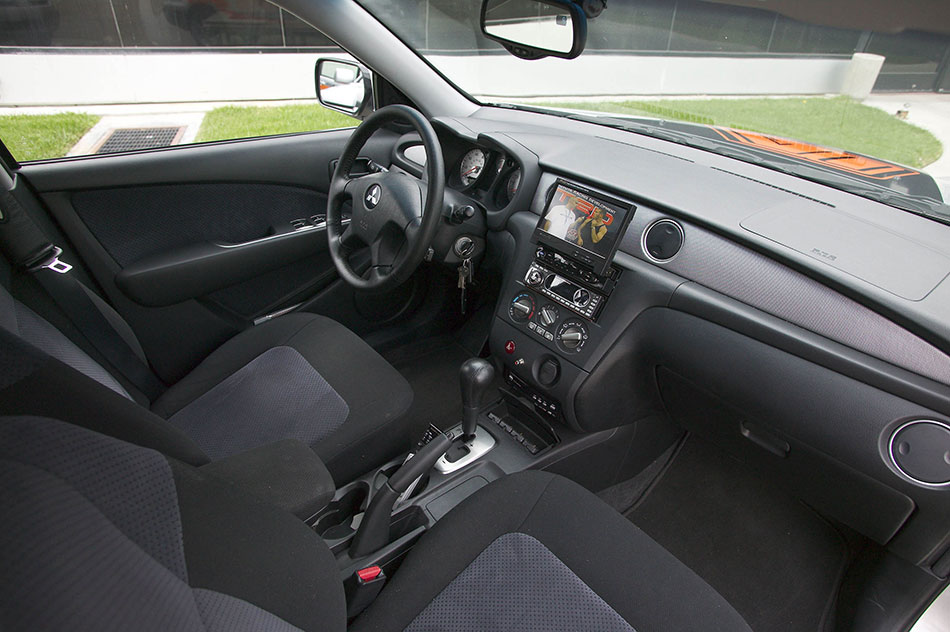 DRIVETRAIN AND CHASSIS
For the 2004 model year, all Outlanders are equipped with a new powertrain: a 2.4-liter MIVEC (Mitsubishi Innovative Valve timing and lift Electronic Control) 16-valve, inline four-cylinder engine mated to a four-speed Sportronic(TM) transmission. Through the use of variable valve timing, the MIVEC engine achieves a maximum of 160 horsepower (up 20 horsepower), and 162 pound-feet of torque (up 5 lb-ft). Tuned to achieve peak torque early in the rev range, the responsive engine - which generates as much torque as some V-6 engines - makes the Outlander more than competitive with other vehicles in the small S.U.V. segment.
The engine's exhaust system is designed to improve performance while reducing exhaust noise levels and vibration. The pipe sections of the Outlander's exhaust system are made of stainless steel for improved durability and rust resistance. Adding further refinement, the engine is mounted to the sub-frame using a four-point inertial axis system that uses liquid filled mounts that reduce engine vibration and improve ride quality.
The Sportronic(TM) transmission can operate in traditional fully automatic mode, or the driver may choose to actuate clutchless shifts for more spirited driving. The INVEC-II programming of the electronically controlled automatic transmission "learns" a driver's throttle inputs and adapts to them by modifying its shift pattern. A four-position shift lever with a Sports-mode-gate allows drivers to experience sporty, positive-feeling manually actuated shifts with a simple push or pull of the shift lever.
Outlander buyers can select either a responsive front-wheel drive format or full-time all-wheel-drive power delivery that improves traction and handling on slick or uneven surfaces. The all-wheel drive system relies on a viscous coupling center differential to distribute power evenly (50:50) between the front and rear wheels.
SUSPENSION
The Outlander's suspension utilizes MacPherson struts up front and a multi-link, coil spring arrangement at the rear for superior vehicle control and stability with a decidedly light, car-like sense of handling. The suspension employs coil springs that are optimally tuned to strike the best balance between handling and ride quality. The rear multi-link design uses a trailing arm and three separate control arms for each wheel to ensure stability over a variety of surfaces. Large 225/60R16 tires increase the Outlander's ride height and improve its performance over rough roads. This confidence-inspiring, all-wheel independent suspension is mated with a rigid, computer-designed Outlander unibody that maximizes the suspension's effort and effectiveness.
BRAKES AND SAFETY
The passenger cabin of the Outlander's strong unibody is designed to help inhibit deformation in the event of a collision, while the front and rear sections are engineered as crush zones to help absorb impact energy. Standard driver and passenger airbag systems, optional side-impact airbags and optional ABS add active measures of vehicle safety. The headrest position is optimized to help reduce the potential for neck injury in the event of a collision.
All Outlanders come equipped with front disc and rear drum brakes that are aided with the power of a tandem vacuum booster. The optional antilock brakes come equipped with the EBD (Electronic Brake Distribution) system which optimizes rear brake power in accordance with road and load conditions, offering performance and benefits additional to the ABS.
TRIM LINES: LS AND XLS
The Outlander offers owners amazing versatility and value with a wide range of features and optional equipment. Available in front- and full-time all-wheel-drive, the Outlander is available in two trim levels: LS and XLS. The LS trim level includes myriad standard exterior features like color-keyed door handles, gray-painted bumpers and side sills, as well as air conditioning, a 140-watt CD audio system, cruise control, metallic-painted climate control knobs, power windows, power door locks and mirrors, rear intermittent wiper, 60/40 reclining rear seats, and dual vanity mirrors. Alloy wheels, a tubular roof rack, keyless entry, cargo cover and privacy glass are available as options on Outlander LS models.
The Outlander XLS improves on the LS model's exterior with such extras as a tubular roof rack, a large rear spoiler, color-keyed side mirrors, privacy glass, fog lamps, 16-inch five-spoke alloy wheels, and clear tail lamp lenses. The XLS interior adds a white-faced instrument cluster, a matching white-faced analog clock, see-through headrests, upgraded seat cover materials and a leather-wrapped steering wheel and shift knob. Options for the Outlander XLS include a Sun and Sound Package that offers a premium six-speaker, 210-watt Mitsubishi/Infinity sound system, and a power glass sunroof. Wheel arch fender flares, leather seating surfaces, roof rack accessories, and ABS are available options. Also available on XLS is the Luxury Package, which adds heated leather seating surfaces, auto-dimming rearview mirror with compass and temperature readings, side airbags and heated side mirrors.
Mitsubishi Motors North America, Inc., (MMNA) is responsible for all manufacturing, finance, sales, marketing, research and development operations of the Mitsubishi Motors Corporation in the United States, Canada, Mexico and Puerto Rico. Mitsubishi Motors sells coupes, convertibles, sedans and sport utility vehicles through a network of nearly 700 dealers throughout North America.
Source: Mitsubishi
Gallery:
Mitsubishi Outlander (2004)