Rinspeed UC is filled with emotions and new ideas - that is the signature feature of all the concept cars from Swiss car visionary Frank M. Rinderknecht that have added colorful bright spots to the Geneva Motor Show for many years. Rinspeed boss Rinderknecht always has a surprise up his sleeve and this year is no different. Once again he does what nobody would have expected from the whiz kid known in the past for his affinity for powerful machines: He's building a subcompact car. But that's not all: For the first time in the long history of its concept cars the Swiss automobile and concept powerhouse has developed not just a vehicle but an entire mobility concept. The cute two-seater with electric drive is aptly called the Rinspeed UC which stands for "Urban Commuter." But the biggest surprise is that the Rinspeed UC was designed to be ready for future series production. The little speedster measures less than 2.60 meters in length and is intended to help avoid gridlock in the inner cities. At the same time an advanced railcar loading system will add the option to cover long distances by train, comfortable, without traffic jams and stress-free.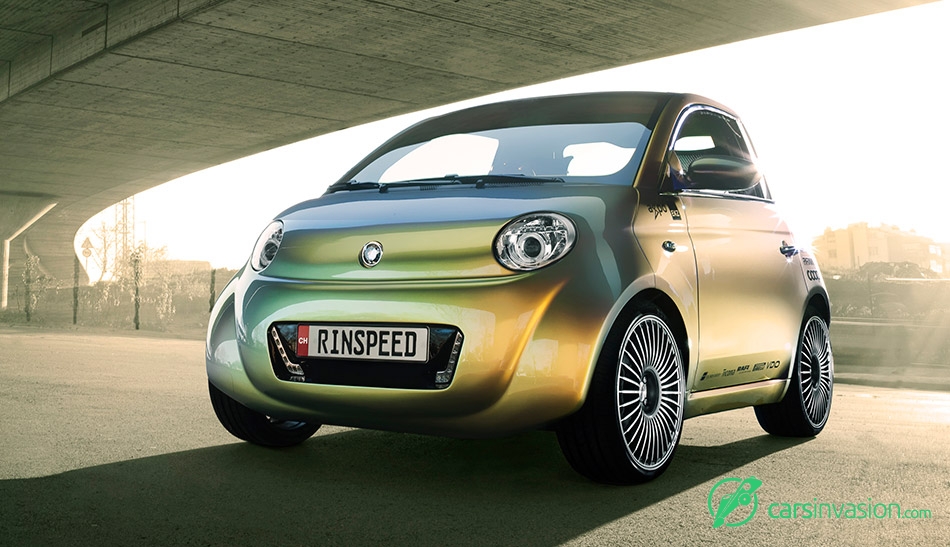 The goal is to create a new mobility concept that integrates individual car ownership and public transportation. A transverse loading system using custom railcars allows loading and unloading of numerous Rinspeed UC vehicles simultaneously and in a very short time. Train passages are booked and reserved online directly from the vehicle. Harman International provides the permanent 3G internet connection as well as marvelous sound on wheels. VoIP2Car technology provides IP telephone service, video chat, video conferences, e-mail and many more features in the Rinspeed UC.
Integrated charging stations on board the custom railcars ensure that upon arrival at the destination the Rinspeed UC battery is once again fully charged for maximum operating range. During the train trip drivers can visit the train restaurant, use any of the other train amenities or spend time in the privacy of their cars.
With this mobility concept Rinspeed elegantly circumvents the obstacle of limited operating range that so far has kept many interested parties from switching to zero-emission vehicles. As Frank M. Rinderknecht sees it: "I can make more efficient use of my time than spending it driving on a boring highway. I'd rather visit the train restaurant or retreat to work in my car." The Swiss visionary is already in discussions with international railroad companies about his new mobility concept.
Anyone who lays eyes on the clever high-tech bubble for the first time is reminded of the Fiat Topolino models from the '30s to '50s. This is loveable car design. Rinspeed boss Frank M. Rinderknecht: "Rinspeed UC is a new and highly emotional web-based car world that interweaves individual and public transport in an intelligent way. We want to create a community of people who are open for a new definition of mobility."
As in past years, the concept car was built by Swiss engineering company Esoro. The lightweight vehicle produces 130 Newton meters of torque, reaches a top speed of 120 km/h and has an operating range of 105 kilometers. That is more than enough for most traffic in urban areas. Statistics show that in Europe 82 percent of all trips cover distances of less than 60 kilometers - short-distance driving clearly represents the vast majority of all individual traffic.
Source: Rinspeed
Gallery:
Rinspeed UC Concept (2010)