The Golf Variant RaVe 270 is a concept car. It makes it unmistakably clear how much potential lies in the Golf Variant, both in its design and basic technology. RaVe 270 stands for 270 PS, for a completely modified design in race car style, a very sporty interior and techno music from a powerful 1,400 Watt high-end sound system.
The basis for this unique system is the new RNS 510 radio-navigation system. A total of 13 loudspeakers are supplied via three powerful output amplifiers. A strong 880 Watt subwoofer and two other 250 Watt subwoofers in chrome are responsible for the distinctly "palpable" sound. The 880 Watt subwoofer – just like the output amplifiers – is located so that it is visible on the cargo floor. Also integrated in the rear were two 12-inch monitors, so that the music of the best bands could not only be heard but seen too.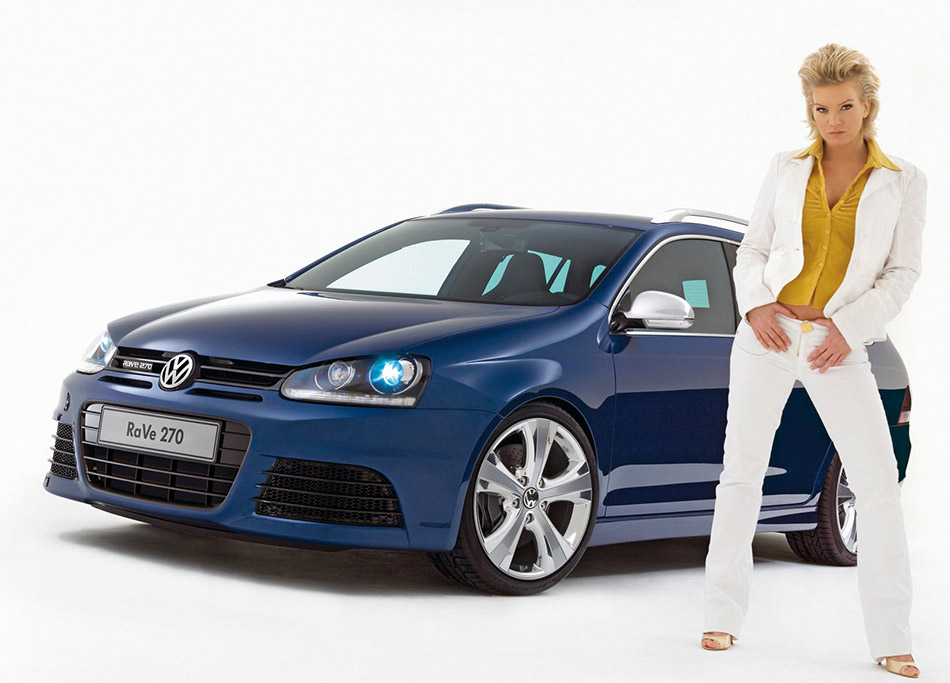 The Golf Variant RaVe 270 was developed and built by Volkswagen Individual GmbH. The idea behind this car: to transfer GTI and R32 feeling to a Golf Variant for the first time. So the RaVe 270 was made faster by a performance-enhanced version of the Golf GTI engine and the 4Motion all-wheel drive of the Golf R32. Forces between the engine and all-wheel drive are distributed by the DSG dual clutch transmission.
After just 5.8 seconds, the Golf Variant RaVe 270 is already moving at 100 km/h. Not until 250 km/h is reached do the electronics stop further acceleration. Despite its awesome driving performance, average fuel consumption of the Golf Variant RaVe 270 is just 9.1 liters of Super gasoline (95 ROZ) per 100 kilometers.
Volkswagen developed a new design line for all add-on body parts. The bumpers, radiator grille, side skirts, taillights, headlamps, and even the mirrors – everything was modified. Take the front end, for example: the classic Golf radiator grille is used here. Directly below it is a completely modified bumper with three large air inlets, like those typically used in car racing. The xenon headlamps of the RaVe 270 got a new look by extending the engine hood and fenders and adding new special caps. Integrated here: daylight running lamps in LED technology. At the rear end, there are two twin-fluted tailpipes on the left and right. Between them is a diffuser that provides for additional traction. In its side profile, details like the 19 inch alloy wheels of the "Zaragoza" type give the concept car a distinctive character in combination with the sport chassis that was lowered by 20 millimeters.
Among other features, the upgraded interior is characterized by leather sport bucket seats with R-Logo and painted door handle recesses.
Source: Volkswagen
Gallery:
Volkswagen Golf Variant RaVe 270 Concept (2007)