Luxury packed into 2.70 meters: Carlsson is proud to present the first fully individualised smart fortwo (453) – the Carlsson smart CK10. Distinctive alloy wheels, aerodynamic components and a bespoke interior help Carlsson's take on the perfect city car stand out from the crowd.
Launched in November last year, the third generation smart fortwo continues the success story of this agile city car. Now Carlsson, the Mercedes and smart tuning specialists, have worked their magic on the "Champion of the City". With its 17-inch 1/16 DS alloy wheels, lowering springs and front and rear roof spoilers, the Carlsson smart immediately looks more purposeful. On closer inspection, this striking first impression is back up by fine details like the highly polished rim flanges that set off the black spokes of the alloy wheels. At the rear, a new rear apron with cutouts for the four tailpipes of the sports exhaust system completes the Carlsson exterior look of the CK10.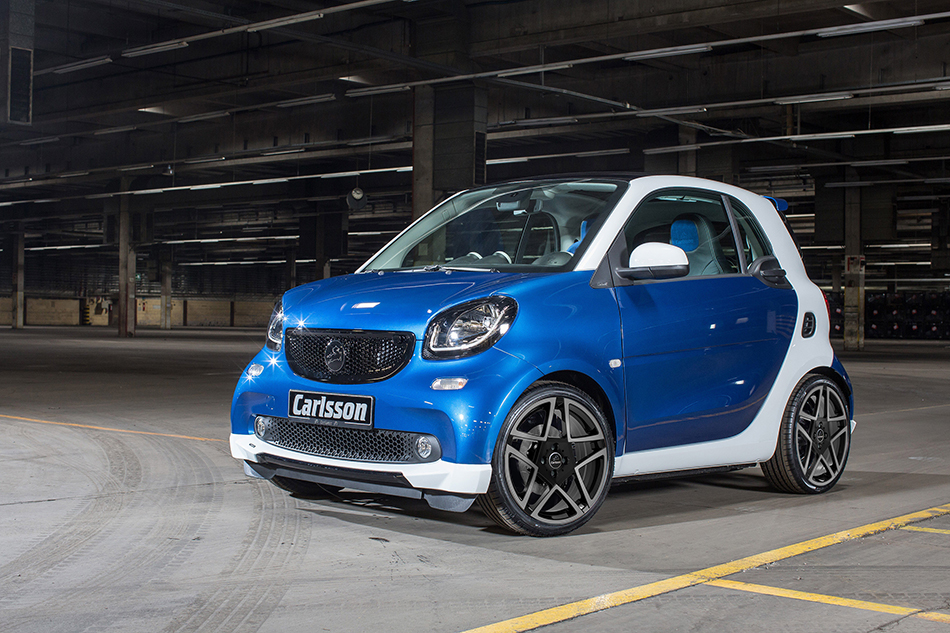 The interior of this special smart showcases the exquisite craftsmanship of Carlsson's upholstery department. The possibilities for a bespoke interior are limited only by your imagination. For instance, you could have black leather seats with orange cross-stitching or piping, with matching Carlsson logos embroidered into the headrests. Or you could have the centre sections of the seats trimmed in black Alcantara with Argyle stitching, the kind of intricate decorative work that highlights the abilities of the Carlsson's artisans. A leather and Alcantara steering wheel might also be on your shortlist, along with a leather gearshift gaiter. And why not have the dashboard and door panels covered in fine leather and Alcantara too? Carlsson floor mats protect the anthracite grey carpets, with a matching mat in the same material for the luggage compartment.
The finishing touch is a pedal set with matching footrest, gearshift knob and handbrake handle, all made from high grade aluminium, with the Carlsson logo engraved into the surface of each component.
Source: Carlsson
Gallery:
Carlsson Smart CK10 (2015)