The Renault Alpine A106 was the brainchild of a motoring enthusiast, Jean Rédelé.  A young racing driver and Renault dealer, Rédéle bought a 4 CV in 1952 to compete in his 1st rallies. Jean Rédelé notched up a string of victories at the wheel of the standard and 1063 versions, including 1st in class in the 1952 Mille Miglia  (1000 Miles) rally with Louis Pons as co-driver, and overall runner-up  in the 1954 Tour de France!
But Jean Rédelé's dream was to design a small French sports model using production parts. The 4 CV was a good car but it was heavy and not sufficiently aerodynamic.  After a few inconclusive attempts, Rédelé teamed up with the Chappe brothers, coachbuilders in Saint-Maur outside Paris. The brothers were already experts in plastic technologies. In 1955 their partnership produced the Alpine A106, an attractive car with a polyester body built on a 4CV platform. The Alpine owes its name to Jean Rédelé's success in the Alpine Cup.
In 1955, Renault officially joined forces with Alpine, the company founded by Rédelé following his win. The aim was to mass produce the Alpine racing car. The craftsmen from Alpine were responsible for assembly and bodywork, while Renault plants produced the chassis, engine and other production parts. In September 1955, the first 3 models in red, white and blue were presented to the press and to the President and CEO, Pierre Dreyfus, on the forecourt of the Renault Billancourt plant.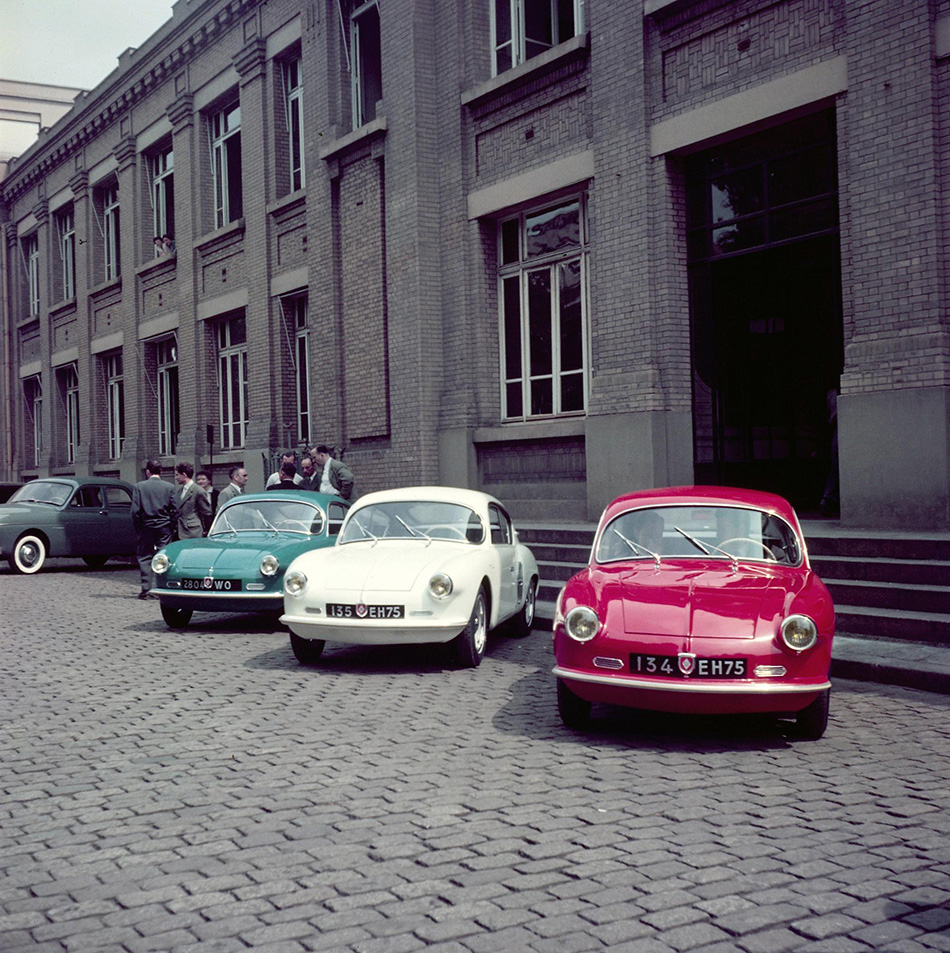 A collectors' dream
The A106 engines were fitted in Alpine's legendary workshop at 13 rue Forest in the 18th district of Paris. The engine existed in 2 versions: 21 and 38 hp. Buyers also had a choice between 2 gearboxes: the original 3-speed gearbox and a new 5-speed version that cost as much as the 4CV car! Despite its price, this "full option" quickly won the favors of users.
Small-scale production also left space for customization. From 1958, drivers could choose their own powertrains. The A108 model featured a powertrain inherited from the renowned Dauphine. Ultimately, just 300 examples of the A108 came off the assembly lines between 1955 and 1961. Today, many collectors would leap at the chance to acquire one of these rare jewels!
The birth of a dynasty of champions
The A106 was continually improved during the 6 years of production. In 1956, small round indicators were mounted at the front. In 1957, the Frégate windscreen was replaced by a specially designed part. The bodywork also underwent frequent face lifts over the years.
This automotive jewel did not disappoint its designers. Between 1955 and 1960, it notched up a string of victories. With the Alpine, France enjoyed one of its most successful periods in motorsports. And the story did not stop there, since this founding model was the 1st in a dynasty of racing cars, paving the way for another motoring legend: the Berlinette A110...
Source: Renault
Gallery:
Renault Alpine A106 (1955)