The Geneva Motor Show sees Renault take the wraps off the latest hatchback and estate versions of the best-selling Renault Clio. New Renault Clio's styling, comfort, versatility, safety credentials and equipment, which form a package worthy of that of models from the next segment up, are sure to appeal to a large, loyal customer base worldwide. At the same time, its extremely rigorous build quality makes it one of the most reliable cars of its class.
EXTERIOR STYLING CUES SHARED WITH NEW RENAULT MÉGANE
A compact hatchback with clear family ties with New Renault Mégane
From the outset, Renault's Corporate Design Department worked closely with the project engineers to incorporate the brand's new styling identity. New Renault Clio sits squarely on the road and features more streamlined lines thanks to its extended length (4,027mm; 41mm longer than Clio III), while the contours of its headlamps extend downward to meet the outer parts of the grille. The dynamic front bumper design incorporates a broad air intake which is picked out with matt black protective mouldings. The steeply-raked 'soft' nose is flanked by the foglamps and gives the new hatchback a determined gaze, while the two-tone exterior mirror housings stand out through their sleeker forms. At the rear, the waistline is extended by new light clusters, and the more dynamic feel of New Renault Clio is further emphasized by the revised bumper, as well as by the reversing lights and rear fog lights which are situated lower down and closer to the car's sides.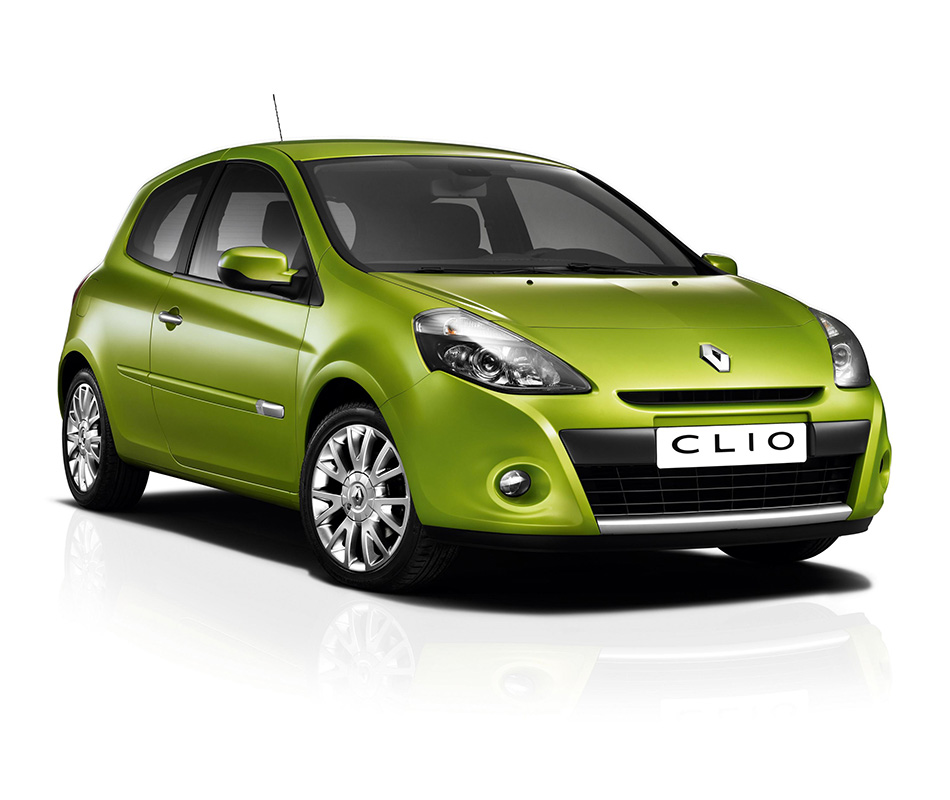 A WIDE CHOICE OF SPORTING VERSIONS
A line-up of three sporting versions
From launch, the New Renault Clio catalogue will feature a line-up of three sporting versions, namely New Renault Clio GT, plus 'Luxe' and 'Cup' versions of Clio Renault Sport.
New Renault Clio GT: as is the case with other Renault models, the GT version is based on the hatchback variant (three and five-door versions). The combination of New Renault Clio GT's racy looks, specific suspension and high performance engines make it ideal for sampling the joys of sporty motoring.
Renault Sport Luxe and Renault Sport Cup1: Clio Renault Sport packs even more exclusive, efficient performance. To match customer demand as closely as possible, the model is now available in a choice of two versions:
-Renault Sport Luxe (name may differ depending on market): features a 'Sport' chassis for customers looking for a comfortable, extensively equipped and customizable performance hatchback.
-Renault Sport Cup: for enthusiasts looking for sporting sensations and efficient sports performance. It is equipped with the lighter 'Cup' chassis which enables it to boast the best weight-to-power ratio (6kg/hp) of its class.
New Renault Clio GT, a more purposeful personality
Styling: New Renault Clio GT can be recognized by its exclusive Malta Blue body colour and expressive, racy lines. It sits squarely on its 16-inch "Dark Anthracite" aluminium alloy wheels, while its more assertive front end features a gloss black grille and distinctive black headlamp masks. The lines of the sills point to the performance of the GT version's specific suspension. Meanwhile, the twin exhaust tailpipes and rear lip spoiler underline New Renault Clio GT's undeniable sports tourer looks. Inside, eye-catching sporty details include drilled aluminium pedal covers and extra side support for the seats, as seen on New Clio Renault Sport, plus GT-badging for the front seats.
Suspension: Renault Sport Technologies' engineers have paid special attention to ensure that New Renault Clio GT's chassis combines first class dynamic ability with a comfortable ride. The stiffness of the front springs and the calibration of the front dampers have been uprated by 15 per cent compared to the previous version. The variable-rate coil springs at the rear are 15 per cent stiffer, too, and the new rear dampers feature bigger diameter rods. These solutions ensure enhanced control of body movement and more precise cornering without detracting from comfort. To counter body roll, the front anti-roll bar diameter has been increased from 20.5 to 21mm, while the rear suspension is equipped with the same stiffer bushes as New Clio Renault Sport. The directional stability of the rear end has been made more precise by curbing of parasitic movements. New Renault Clio GT's power steering is also more direct for swifter response and greater driving pleasure.
Powertrains: the GT version is available with a choice of three engines (depending on market): the 1.6 16V 128 (exclusive to New Renault Clio GT), the 2.0 16V 140 and the dCi 105. They all drive through the TL4 six-speed gearbox.
Carminat TomTom®: THE AFFORDABLE INTEGRATED NAVIGATION SYSTEM2
Carminat TomTom®: the first updatable, integrated GPS navigation system for less than €500
Until today, no original equipment navigation system had been available for the compact car segment for less than €500. Manufacturers frequently propose either semi-integrated, entry level monochrome systems which use the radio's small screen, or else products that are more costly. However, such solutions fail to really meet the expectations of customers who have consequently turned increasingly to more affordable removable products, which explains why this market is expanding so quickly. Today, for less than €500, Carminat TomTom® brings those who hesitate between removable and integrated navigation systems the best of both worlds, and gives New Renault Clio owners a whole new outlook on motoring mobility.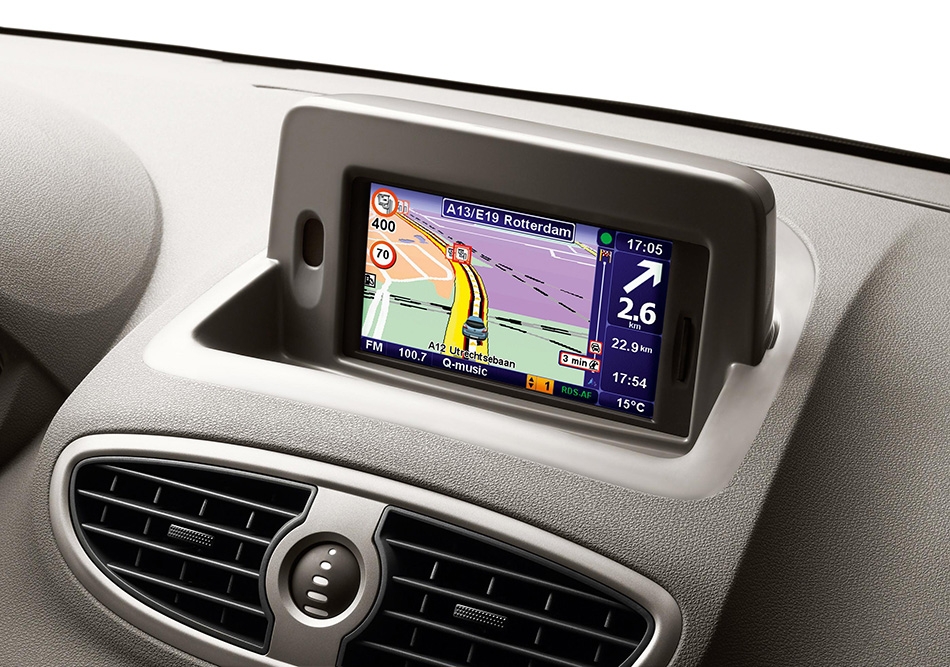 The advantages of an integrated system: positioned high up on New Renault Clio's dashboard, the large 5.8-inch (14.73cm) colour screen is close to the driver's line of sight, which means that his or her attention can stay fully focused on the road ahead. A bespoke exterior aerial ensures optimal GPS signal reception, while using the loudspeakers of the car's own audio system guarantees clear sound. Integrated systems offer greater protection from theft, too, and are safer in an accident. Carminat TomTom® is operated by a user-friendly Bluetooth® remote control, and covers some 40 countries across western and eastern Europe and Scandinavia, plus Turkey and South Africa. This new GPS navigation system is compatible with the new range of audio systems available for New Renault Clio.
FUNDAMENTAL STRENGTHS CARRIED OVER FROM CLIO III
New Renault Clio Estate: a practical estate with expressive, distinctive looks
In order to capitalize on its existing popularity (17 per cent of Clio III sales in Europe), New Renault Clio Estate features the same front-end styling cues as the hatchback version, which itself takes its inspiration from New Renault Mégane. With a length of 4,228mm (an increase of 26mm over Clio III Estate), New Renault Clio Estate continues to stand out as one of the market's most compact estates, while its dynamic stance is heightened by its steeply-raked rear screen. The latter is topped by a spoiler and black or chrome profiled roof bars (depending on version) which are unmistakable pointers to New Renault Clio Estate's calling as the perfect leisure car. The longer rear overhang frees up a generous boot volume of 439dm3 (VDA, up to parcel shelf), a figure which extends to 1,277dm3 (VDA) with the easy-to-manipulate rear benchseat fully folded. Meanwhile, New Renault Clio Estate's removable boot floor gives owners the opportunity to choose between maximum carrying capacity or a completely flat floor and makes it easy to switch between a wide variety of uses. The baggage cover, which is often seen as something that gets in the way, and the removable floor can both be stored away in their own clever, practical compartments.
New Renault Clio's interior styling: perceived quality and user friendly
New Renault Clio's interior styling was guided by a desire to provide a sense of well-being and perceived quality. The dashboard is available with a soft-touch finish and incorporates clear, easy-toread instruments, while the fully-integrated screen of the Carminat TomTom® satnav system is positioned at the top of the centre console. New Renault Clio is a car in which drivers feel immediately at home. The practical controls have been made even more user-friendly, including the short steering wheel-mounted stalks. The switch for the cruise control and speed limiter has been moved to the centre console, alongside the parking brake, and the dashboard display permits drivers to check whether the cruise control/speed limiter is activated or not. Meanwhile, special care has gone into the interior trim, with a range of elegant new ambiences depending on equipment level. Customers can choose a bright, relaxing hue, or might prefer a darker, sportier feel such as that proposed for New Renault Clio GT.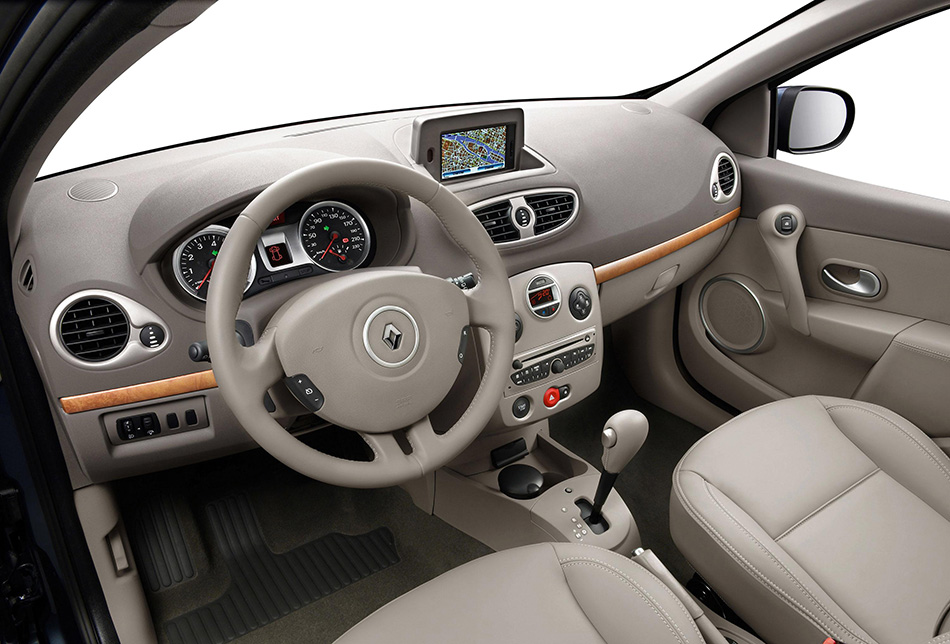 Benchmark cabin space and comfort
New Renault Clio boasts a class-leading overall cabin space index, with rear shoudler-room of 1,362mm in the case of three-door versions and 1,343mm for five-door and estate versions. The sensation of space is further accentuated by the generous headroom which is 866mm at the rear, while rear occupants benefit from kneeroom of 162mm, too. Indeed, New Renault Clio comfortably sits passengers who are more than 1.88m tall (95th percentile of the European population).
Grand tourer quality acoustic performance
New Renault Clio claims soundproofing performance from the next segment up. Its architecture has been carefully engineered to filter out engine and transmission-generated noise, as well as road noise. Care has also been taken with the sound damping between the cabin and the engine, while wind noise has been reduced thanks notably to the use of inflatable inserts in the structure's hollow sections.
Efficient suspension performance for a comfortable, reassuring ride
The New Renault Clio family delivers a carefully-honed balance between rigorous, comfortable and safe handling. The suspension has been developed to meet the expectations of the customers of the different versions (Hatchback, GT, Estate). The suspension of New Renault Clio Hatchback is identical to that of Clio III and provides a high standard of efficient, comfortable roadholding. Compared with the hatchback version, New Renault Clio Estate is equipped with a bigger-diameter rear anti-roll bar (21mm) for enhanced control of body roll. Its dampers and suspension travel have also been adapted to match the estate version's heavier weight and extra carrying capacity.
Responsive, environmentally-friendly engines
The range of engines and transmissions has been carefully selected to bring out the best in New Renault Clio's dynamic performance. These powertrains are respectful of the environment, too, thanks notably to:
a choice of dCi engines, two of which emit less than 120g of CO2/km (e.g. the dCi 85: 117g of CO2/km) and the availability of a particulate filter for a certain number of them,
the TCe 100, which boasts the lowest CO2 emissions of any 100hp petrol engine,
a 1.2 16V engine capable of running on alternative fuels, namely an E85 bioethanolcompatible version and an LPG version (depending on market).
The versions of New Renault Clio powered by the 1.2 16V 75, TCe and dCi 70/85/105 engines meet all three of the criteria necessary to qualify for the Renault eco² signature.
The petrol line-up comprises five powerplants (depending on market): the 1.2 16V 75hp (55kW), the TCe 100 (74kW), the 1.6 16V 110hp (82kW), the 1.6 16V 128hp (94kW) and the 2.0 16V 140hp (102kW). An E85 bioethanol-compatible version of the 1.2 16V 75hp is also available. Modifications have been made to enable this engine, which is based on an existing block from the range, to adapt automatically to this type of fuel. The most notable changes concern the fuel tank, fuel system, injection system and combustion chambers.
Depending on market, an LPG version of the 1.2 16V is available. LPG (Liquefied Petroleum Gas) is clean and economical, while engines which run on this type of fuel emit fewer pollutants than an equivalent petrol engine, and CO2 emissions are similar to those of a diesel. The quiet-running 1.2 16V LPG can run on either petrol or LPG, with the driver able to switch freely from one mode to the other at any time. The vehicle's range is consequently longer, and a light on the dashboard indicates which type of fuel is being used at any given moment.
Three diesel engines are also available, all of which are widely acclaimed both for the driving pleasure they offer and for their outstanding acoustic performance. They are the dCi 70 (50kW), the dCi 85 (63kW) and the dCi 105 (78kW). The latter two can be equipped with a particulate filter. The dCi 70 and the dCi 85 are particularly fuel efficient and emit less than 120g of CO2/km.
The catalogue features a choice of two manual gearboxes: a five-speed gearbox (Type JH or JR) and a six-speed box (Type TL4) for the 1.6 16V 128, 2.0 16V 140, dCi 85 DPF and dCi 105 engines. Robotized Quickshift five-speed transmission can be ordered for the 1.2 16V 75 and dCi 85 engines (Type JA3 and Type JA5 respectively), with four-speed automatic transmission (Type DP0) also available with the 1.6 16V 110 powerplant.
A raft of equipment from the next segment up
The New Renault Clio range includes a long list of equipment from the next segment up aimed at either facilitating driving or enhancing travelling comfort. New Renault Clio is the only B-segment model that can be ordered with a hands-free card. To unlock the car, the driver only has to put a hand near one of the door handles, or else activate the boot opening mechanism. The doors automatically lock at the push of a button situated on the driver's door. A remote lighting function enables owners to locate their vehicle at a distance thanks a bespoke button on the card which activates the lights. For hands-free starting, the card doesn't need to be inserted into a slot; its mere presence inside the cabin suffices thanks to special antennae.
New Renault Clio comes with the new 80W RadioSat Classic audio system which includes six loudspeakers, an MP3-compatbile CD player, the display of MP3 file names and an RCA socket situated in front of the gear lever.
Owners looking for more advanced connectivity will appreciate the two new Plug & Music and Bluetooth® functions.
The Plug & Music function enables iPods® and other types of USB-compatible MP3 players, including USB keys, to be connected via a USB socket. Once connected, the occupant's portable MP3 player becomes an integral part of the in-car entertainment system and can be controlled using the steering wheel-mounted fingertip remote controls or via the radio's own fascia-mounted controls. Playlist folders and files are displayed on the vehicle's main screen.
The Bluetooth® function permits hands-free use of the telephone using the vehicle's own loudspeakers for enhanced safety. The system automatically detects the telephone when the driver starts the car, while Renault's exclusive 'hold' function puts callers on hold until the driver is in a position to answer safely. Incoming and outgoing calls automatically mute the radio and the telephone's functions are controlled via the steering wheel-mounted controls in conjunction with the dashboard display or Carminat TomTom® screen.
The Bluetooth® function also incorporates audio streaming, in other words the wireless transmission via the vehicle's own loudspeakers of personal playlists stored on A2DPcompatible portable players.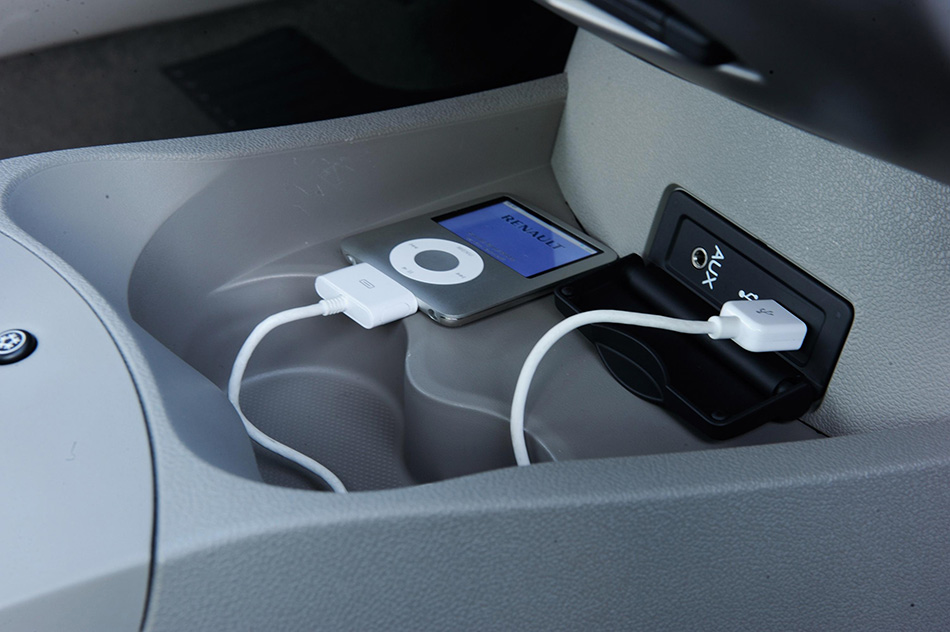 Safety: a priority for Renault, and a self-evidence for New Renault Clio
The New Renault Clio family benefits from Renault's extensive expertise when it comes to active and passive safety. The combination of New Renault Clio's suspension and a range of driver aids (ABS with electronic brakeforce distribution, emergency brake assist, ESC, traction control, engine torque overrun regulation) ensures an outstanding level of active safety. Meanwhile, Clio III Hatchback obtained the maximum five-point rating in the crash tests carried out by the independent body EuroNCAP at the time of its release in 2005. New Renault Clio is built on the same platform and is equipped with the third-generation Renault System for Restraint and Protection (SRP3), a pledge of uncompromising protection for all occupants.
Source: Renault
Gallery:
Renault Clio (2009)