As a living legend that has captivated its owners and car enthusiasts for over 50 years, the Porsche 911 is regarded by many as the greatest all round sports car ever made.
The 991 Turbo and 991 Turbo S are the flagship models of the current 991, range, and leave the factory with a healthy 520 and 560 hp respectively. However, these are conservative outputs that leave plenty of headroom to be exploited by tuners like Maxi-Tuner.
Headquartered in the town of Gau-Algesheim in the Mainz-Bingen region of Germany, Maxi-Tuner have developed an auxiliary ECU for the 991 Turbo and Turbo S that boosts the power and torque of their 3.8 litre twin-turbo flat-six by 60hp and 100Nm. This takes the output of the Turbo to 580hp with 760Nm, and the Turbo S to 620hp with 800Nm.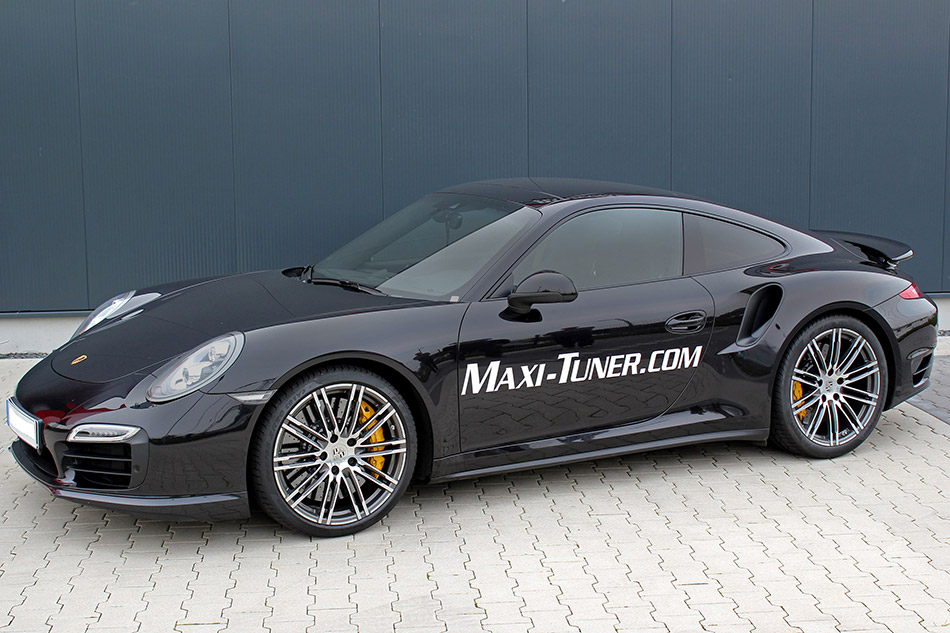 Importantly, all the engine safety functions remain intact, so if the sensors detect overheating or the onset of detonation, the system defaults to the factory engine protection protocols, which retard boost and ignition. There is also no change to the fault diagnostic or service regimes, and the upgrade can just as easily be uninstalled should you wish to return the car to its standard tune.
Maxi-Tuner's 991 Turbo S test car is also equipped with their in-house developed stainless-steel sports exhaust system. The system optimises back-pressure for more power, has a better soundtrack, and comes complete with a TÜV-test report.
The addition of this exhaust to the Turbo S test car showed a total of 635 hp and 864 Nm on the dynamometer. In a subsequent stopwatch challenge, the 0-100km/h sprint took just 2.8 seconds, a 0.3 sec improvement. Top speed goes up by 10 km/h to 328 km/h.
Source: Maxi-Tuner